Elinchrom D-Lite RX 4 - Head Only with Protection Cap (20847)
SKU code: 23129
Elinchrom D-Lite RX 4 Studio Flash with EL-Skyport Receiver
High Speed Sync Up To 1/320s
Pre-Flash Detector System When Used With Speedlights
Flash Triggering Confirmed by Adjustable Modelling Lamp
Variable Power Output
Accessory Bayonet for Accessories and Rotalux softboxes
Dispatches within 5-10 business days*
For store pickup please contact us
The D-Lite RX studio flash system is the entry range of the Elinchrom studio flash family. Whether you are new to lighting, already have speedlights or just want to take your photography to the next level, the D-Lite RX series provide all you need. Ideal for small business applications, portraiture, for anyone interested in the art and creativity of lighting, these Swiss designed and tested units will not only give many years of satisfactory service and pleasure but also allow the upgrade to more advanced units if necessary.

What's New

Radio Remote Control of flash power settings, Modelling lamp on/off, Speed sync mode and Triggering.
Take full control of your units settings with the EL-Skyport App* for iPhone™, iPad™ and iPod Touch™ via the optional WiFi module.
Additional features can be found when used with the EL-Skyport Software** such as Flash-Delay for strobing-effects.
Visual Flash Confirmation option. The modelling lamp comes on to confirm the flash has been triggered.
Proportionality adjustment of the modelling lamp range.
Variable f-stop steps: 1/1, 5/10, 4/10, 3/10, 2/10 or 1/10 steps are available.
Programmable ready beep function.
Firmware update option.

*The optional USB Transceiver RX and Skyport Software are required.

Control Panel D-Lite RX 4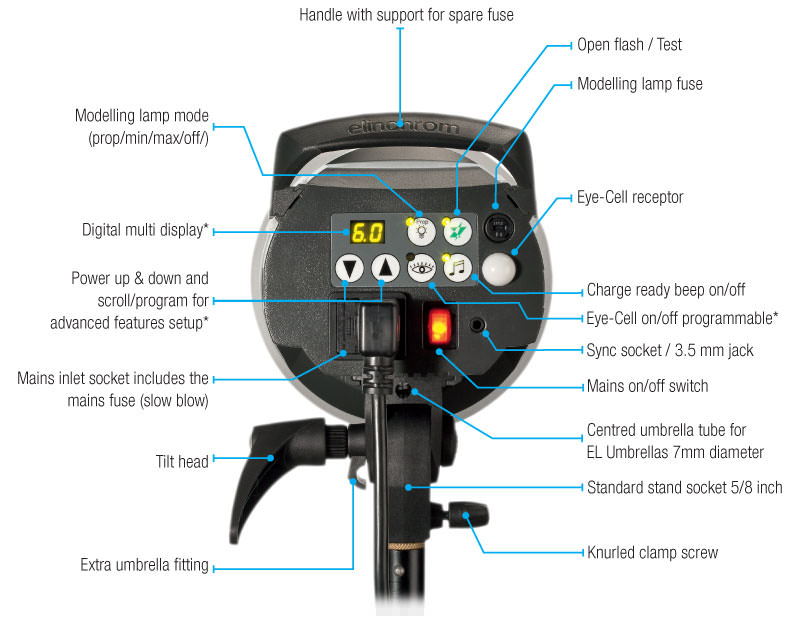 * Dispatch timeframes are indications only and may vary for multiple quantities. Timeframes are updated regularly during normal business hours.