WEEKLY PHOTO COMPETITION
Here's your chance to share your photographs and win great prizes in our weekly photography competition. There is a different theme each week and the winning image will receive an awesome prize, plus will be featured on our social media channels.
How it works.
Subscribe to our mailing list below and email your image featuring or inspired by the theme (selected theme for the week) to marketing@digitalcamerawarehouse.com.au. See our FAQ below for more information.
By submitting your information, you agree and consent to the terms of the competition and accept to receive marketing and email communications.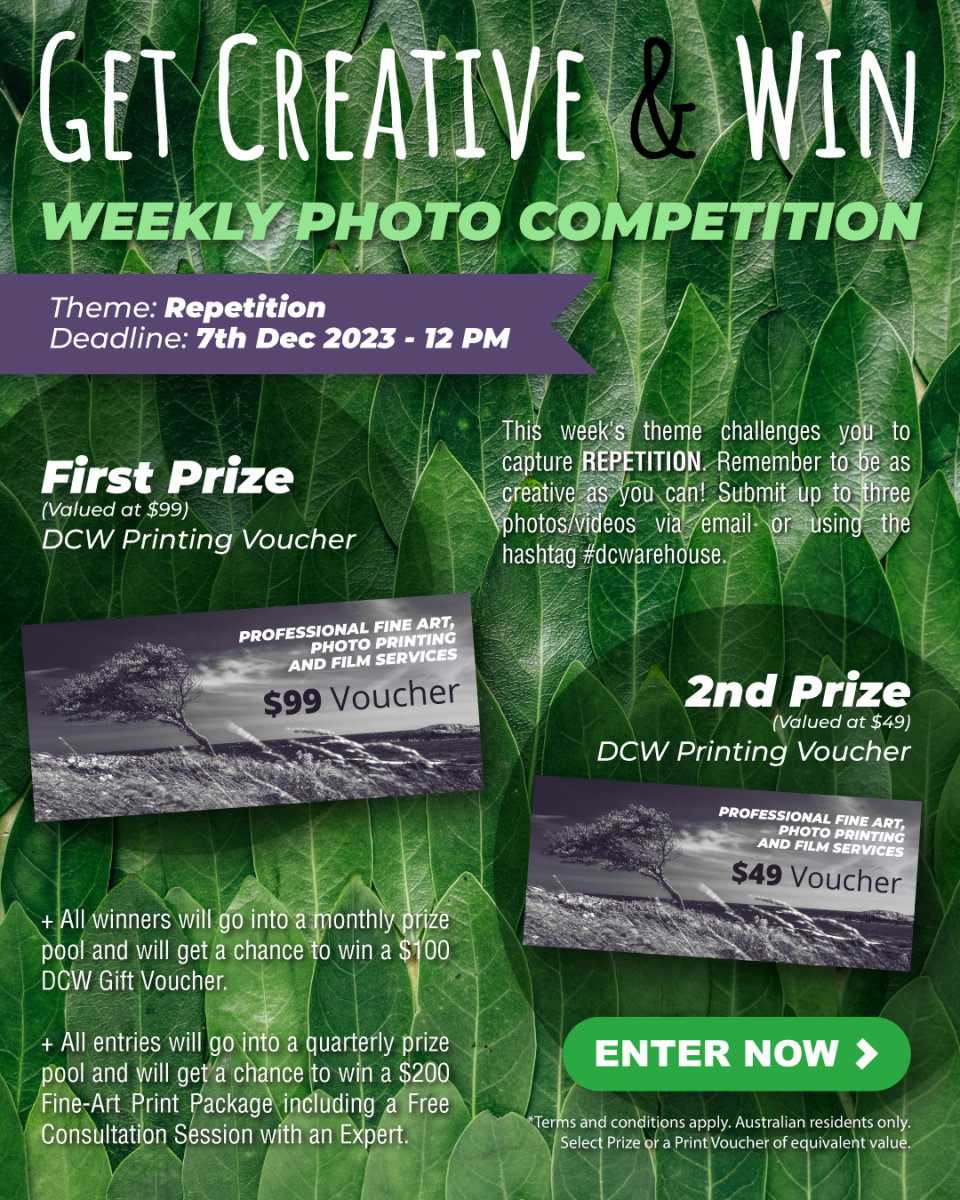 Photo Competition FAQ
Who can participate?
You do not need to be a professional photographer, just someone who loves and enjoys taking pictures. We accept images from everyone, regardless your skill level. The winning image will be based on your creativity in relation to the theme, your idea and not just the technical aspects of the image. You just need to start taking images and get involved.

Image requirements.
Images should be no larger than 5MB.
Photos must be in JPEG format.
Edited images are acceptable.
Please provide the image information in the email including camera and lens model, focal length, shutter speed, aperture, ISO, and any other information you would like to share. (Example: Shot on Sony A7 III & 16-35mm Lens, Focal Length 35mm, f/2.8, Shutter Speed 5s, ISO-800 with tripod and ND filter).

When are the deadlines?
To qualify for a weekly award, the image must be received by Thursday 12 pm AEST. Images received after that will not be accepted.

Prize
The prize will be announced weekly through our social channels. Additionally showcased in each week's "Happy Friday Flash" EDM where each week's theme will be announced.

+ All winners will go into a monthly prize pool and will get a chance to win DCW Gift Vouchers.

+ All entries will go into a quarterly prize pool and will get a chance to win Fine Art Print Package including a Free Consultation Session with an Expert.

Winner
The winners will be announced on the Friday after the competition has ended. The announcement will be made through our social media channels and the winner will be notified directly via email.
Terms and Conditions
The competition is open to Australian residents only and you must provide an Australian mailing address to receive the prize.

The entrant must be the copyright owner of any images he/she

enters

the competition.

The entrant authorises Digital Camera Warehouse to display any photographs entered in this competition across

Digital Camera Warehouse

website,

social media channels

and store.

The winner of the competition will be selected by a senior member of Digital Camera Warehouse.

The prize cannot be changed or redeemed for cash.

This weekly competition is a game of skill, and chance does not form part of selecting the winner.

Images should not include any nudity, violence, or offensive content. Any entries which are illegible, comprehensible, offensive or incomplete may be deemed invalid, by Digital Camera Warehouse, at its sole discretion.

Digital Camera Warehouse reserves the right in its sole discretion, at any time, to verify the validity of entries and entrants and disqualify any entrant who we believe has breached any of these Terms and Conditions.