Blackmagic ATEM Mini Pro Switcher
SKU code: 46324
Features miniaturized control panel based design.
Supports connecting up to 4 cameras or computers.
USB output operates as a webcam and supports all video software.
Live streaming via Ethernet supported on ATEM Mini Pro.
Two stereo audio inputs for connecting desktop or lapel microphones.
Automatically standards converts and re-syncs all HDMI inputs.
Includes ATEM Advanced Chroma Key for green/blue screen work.
Multiview allows monitoring of all cameras on ATEM Mini Pro.
Supports remote HDMI control with Blackmagic Pocket Cinema Cameras.
Free Shipping On Orders Above $49
Dispatches within 24 hours*
For store pickup please contact us
You May
Also Like
Cables & Connectivity:
The Blackmagic ATEM Mini Pro Switcher makes multi-camera video production easy, with upgraded features for recording, streaming and monitoring. If you are a keen vlogger or just want to share your footage as quickly as you can, this Switcher has livestreaming capabilities to online platforms such as YouTube. This is an extremely product to use and takes the hassle and stress out of video production.
4 Independent HDMI Inputs
This allows the user to connect up to 4 high-quality video cameras at once, syncing up to the switcher if they operate at different video standards. This means you can take advantage of low-light situations and still get record the highest quality footage.
Live Streaming Capabilities
Live streaming capabilities are becoming more and more important for the workplace, education and training purposes and a whole lot of other fields. The Switcher can live stream to any social media platform, such as YouTube, Facebook, Skype, Zoom, Twitch and many more.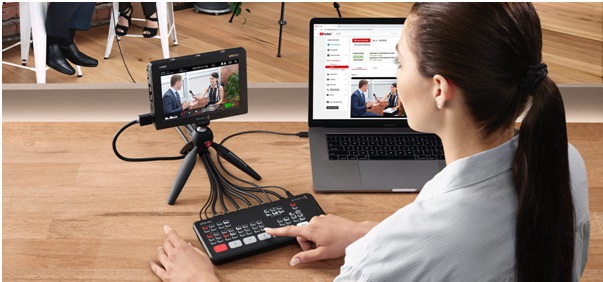 Compact Design
The ATEM Mini has a super compact design, with the control panel and connection ports condensed into an inclusive design.
Easy To Use
With an extremely simple, yet effective design, the switch is very user friendly. The input buttons are labelled "1 to 4" on the control panel to easily cut between video sources. There is also an auto option, which allows the product to automatically use a transition when switching inputs.

https://downloads.blackmagicdesign.com/videos/products/atemmini/landing/easy-to-learn/effects-demo.mp4
In Built Video Effects
This product really makes life easy with its in-built video effects. With professional production values and features, the ability to make seamless videos is literally at your fingertips.
Microphone Input
Featuring two independent 3.5mm stereo audio inputs, this is ideal if you are conducting an interview, filming a podcast with more than one person, or even if you want to have introductory music.
Digital Video Effects Processor and Professional Quality Broadcast Transitions
These are some of the most fun features of the Switcher. DVE provides picture in picture capabilities, image effects with customisable borders, shadows and lighting and a whole lot of different transitions. So feel free to get as creative as you like with this feature!
Multiview
This is an extremely importantaspect if you are working on a large-scale production. The ATEM Mini Pro includes a Multiview feature, that lets you view all 4 inputs, along with a preview and program on a single HDMI television or monitor.
Built in Audio Mixer
Boasting a built in Fairlight audio mixer, the Switcher allows for live sound mixing at a professional level.
Wireless Internet Streaming
Use the ATEM Software Control to connect to your ATEM Mini via the Ethernet. Simply share your computer's internet connection, connect your ATEM Mini Pro vis the Ethernet and you're good to go!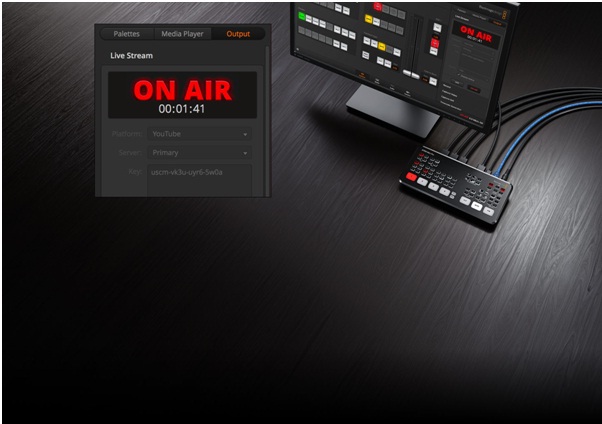 Spec Control and Colour Balance
Another extremely professional feature; remotely controlling factors like the ISO, tint, focus and zoom from the Switcher.
Total Video Inputs

4

Total Outputs

2

HDMI Video Inputs

4 x HDMI type A, 10-bit HD switchable.
2 channel embedded audio.

Ethernet

Ethernet supports 10/100/1000 BaseT for live streaming, software control, software updates and direct or network panel connection.

Computer Interface

1 x USB Type-C 3.1 Gen 1 for external drive recording, webcam out, software control, software updates and panel connection.

Direct Streaming

ATEM Mini Pro supports direct live streaming over ethernet using Real Time Messaging Protocol (RTMP).

Control Panel

Built in control panel. Software control panel with camera control included. Supports optional hardware panel.

HD Video Input Standards

720p50, 720p59.94, 720p60
1080p23.98, 1080p24, 1080p25, 1080p29.97, 1080p30, 1080p50, 1080p59.94, 1080p60
1080i50, 1080i59.94, 1080i60

HD Video Output Standards

1080p23.98, 1080p24, 1080p25, 1080p29.97, 1080p30, 1080p50, 1080p59.94, 1080p60

Video Streaming Standards

1080p23.98, 1080p24, 1080p25, 1080p29.97, 1080p30, 1080p50, 1080p59.94, 1080p60

Direct Recording

1 x USB-C 3.1 Gen 1 expansion port for external media to direct record a .mp4 H.264 with AAC audio at the ATEM video standard.

Multi View Monitoring

1 x 10 Views including left right configurable Program/Preview, 4 HDMI inputs, Media Player, Streaming Status, Recording Status and Audio Meters.

Operating Temperature

5° C to 40° C
ATEM Mini Pro
External 12V DC power supply with international socket adapters
* Dispatch timeframes are indications only and may vary for multiple quantities. Timeframes are updated regularly during normal business hours.