edelkrone Shutter Release Cable - N3
SKU code: 44631
Coiled Cable Design
Connects Edelkrone Motion Control Devices to Cameras
Available for Most Camera Brands
Triggers Shutter Release for Time-lapse & Stop-Motion
You May
Also Like
The Essentials:
Bags, Cases & Straps: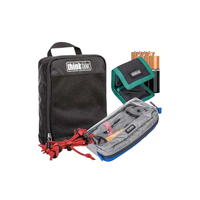 $99.00
Cleaning & Maintenance:
The Edelkrone Shutter Release Cable N3 connects a camera to any of Edelkrone's range of motorised motion control devices for precise stop motion and time-lapse capture. When used with a Edelkrone device the cable allows you to triggers the shutter release of the camera with precise timing, ensuring that the movement of the device is perfectly co-ordinated to avoid movement during capture.
Coiled Compact Design
With a coiled design, the cable is compact and neat but can be extended for extra reach if required. It is compatible with the entire range of Edelkrone range devices.
Range of Connectors Available
The Edelkrone Shutter Trigger Cable is available in a range of different variations to suit most cameras on the market. Check the specifications to see which cable suits your camera.
| | |
| --- | --- |
| C1 Compatible Models | Canon EOS 1000D, Canon EOS 100D, Canon EOS 1100D, Canon EOS 1200D, Canon EOS 1300D, Canon EOS 20D, Canon EOS 300D, Canon EOS 350D, Canon EOS 400D, Canon EOS 450D, Canon EOS 500D, Canon EOS 550D, Canon EOS 600D, Canon EOS 60D, Canon EOS 60Da, Canon EOS 650D, Canon EOS 700D, Canon EOS 70D, Canon EOS 750D, Canon EOS 760D, Canon EOS 77D, Canon EOS 800D, Canon EOS 80D, Canon EOS D30, Canon EOS M5, Canon EOS R, Canon G5X, Canon PowerShot G1 X, Canon PowerShot G1 X Mark II, Canon PowerShot G10, Canon PowerShot G11, Canon PowerShot G12, Canon PowerShot G15, Canon PowerShot SX50 HS, Canon XS, Contax 645, Contax N, Contax N Digital, Contax N1, Contax NX, FujiFilm GFX 50S, FujiFilm S1, FujiFilm X100F, FujiFilm X100T, FujiFilm X-30, FujiFilm X70, FujiFilm X-E1, FujiFilm X-E2, FujiFilm X-H1, FujiFilm X-M1, FujiFilm X-T1, FujiFilm X-T10, FujiFilm X-T2, FujiFilm X-T20, FujiFilm X-T3, Hasselblad H, Hasselblad H3D, Hasselblad H3DII, Hasselblad H4D, Hasselblad H4D-200MS, Hasselblad H4D-31, Hasselblad H4D-40, Hasselblad H4D-50, Hasselblad H4D-50MS, Hasselblad H4D-60, Hasselblad H4X, Hasselblad H5D, Hasselblad H5D-200, Hasselblad H5D-200C, Hasselblad H5D-200MS, Hasselblad H5D-40, Hasselblad H5D-50, Hasselblad H5D-50C, Hasselblad H5D-50C WiFi, Hasselblad H5D-60, Hasselblad H5X, Hasselblad H6D-100C, Hasselblad H6D-50C, Olympus OM-D E-M1 M II, Pentax 645D, Pentax ist D, Pentax ist DL, Pentax ist DL2, Pentax ist DS, Pentax ist DS2, Pentax K1, Pentax K10 Grand Prix, Pentax K100D, Pentax K100D Super, Pentax K10D, Pentax K110D, Pentax K200D, Pentax K20D, Pentax K-3 II, Pentax K-30, Pentax K-5, Pentax K-5 II, Pentax K-5 IIs, Pentax K-50, Pentax K-500, Pentax K-7, Pentax K-M, Pentax MZ-6, Pentax MZ-L, Pentax ZX-L, Samsung GX-10, Samsung GX-1L, Samsung GX-1S, Samsung GX-20, Samsung NX-10, Samsung NX-100, Samsung NX-11, Samsung NX-5, Sigma SD1, Sigma SD1 Merrill, Sigma SD14, Sigma SD15 |
| C3 Compatible Models | Canon EOS 10D, Canon EOS 1D, Canon EOS 1D C, Canon EOS 1D Mark II, Canon EOS 1D Mark II N, Canon EOS 1D Mark III, Canon EOS 1D Mark IV, Canon EOS 1D X, Canon EOS 1Ds, Canon EOS 1Ds Mark II, Canon EOS 1DX Mark II, Canon EOS 20Da, Canon EOS 30D, Canon EOS 40D, Canon EOS 50D, Canon EOS 5D, Canon EOS 5D Mark II, Canon EOS 5D Mark III, Canon EOS 5D Mark IV, Canon EOS 5DS R, Canon EOS 6D, Canon EOS 6D Mark II, Canon EOS 7D, Canon EOS 7D Mark II, Canon EOS D60, Kodak DSC-530 |
| N1 Compatible Models | Nikon D1, Nikon D1H, Nikon D1X, Nikon D2, Nikon D200, Nikon D2H, Nikon D2HS, Nikon D2X, Nikon D2XS, Nikon D3, Nikon D300, Nikon D300S, Nikon D3s, Nikon D3X, Nikon D4, Nikon D4S, Nikon D5, Nikon D500, Nikon D700, Nikon D70S, Nikon D800, Nikon D800 E, Nikon D810, Nikon D810A, Nikon D850 |
| N2 Compatible Models | D80 |
| N3 Compatible Models | Nikon D3100, Nikon D3200, Nikon D3300, Nikon D5000, Nikon D5100, Nikon D5200, Nikon D5300, Nikon D5500, Nikon D5600, Nikon D600, Nikon D610, Nikon D7000, Nikon D7100, Nikon D7200, Nikon D750, Nikon D7500, Nikon D90, Nikon DF, Nikon Z6, Nikon Z7 |
| P1 Compatible Models | Leica DigiLux 2, Leica DigiLux 3, Leica V-LUX (Typ 114), Leica V-Lux 1, Leica V-Lux 2, Leica V-Lux 3, Leica V-Lux 4, Panasonic DMC-2500, Panasonic DMC-FZ2000, Panasonic DMC-G80, Panasonic DMC-G85, Panasonic FT 2, Panasonic FZ100, Panasonic FZ-1000, Panasonic FZ15, Panasonic FZ150, Panasonic FZ20, Panasonic FZ200, Panasonic FZ20S, Panasonic FZ30, Panasonic FZ300, Panasonic FZ30K, Panasonic FZ30S, Panasonic FZ-35, Panasonic FZ-45, Panasonic FZ50, Panasonic FZ50S, Panasonic G1, Panasonic G10, Panasonic G2, Panasonic G3, Panasonic G5, Panasonic G6, Panasonic G7, Panasonic G9, Panasonic GF1, Panasonic GH1, Panasonic GH2, Panasonic GH3, Panasonic GH4, Panasonic GH5, Panasonic GX1, Panasonic GX7, Panasonic GX7 L1, Panasonic GX8, Panasonic L10, Panasonic LC1, Panasonic S1, Panasonic S1R, Panasonic TS2 |
| S1 Compatible Models | Minolta DiMAGE 5, Minolta DiMAGE 7, Minolta DiMAGE 7Hi, Minolta DiMAGE 7i, Minolta DiMAGE A1, Minolta DiMAGE A2, Minolta DiMAGE A200, Minolta Dynax 3, Minolta Dynax 4, Minolta Dynax 5000, Minolta Dynax 500si, Minolta Dynax 505si, Minolta Dynax 5D, Minolta Dynax 7, Minolta Dynax 7000, Minolta Dynax 7D, Minolta Dynax 9, Minolta Dynax 9000, Minolta Dynax Sweets, Minolta Maxxum 3, Minolta Maxxum 4, Minolta Maxxum 5000, Minolta Maxxum 500si, Minolta Maxxum 505si, Minolta Maxxum 5D, Minolta Maxxum 600si, Minolta Maxxum 7, Minolta Maxxum 7000, Minolta Maxxum 700si, Minolta Maxxum 7D, Minolta Maxxum 807si, Minolta Maxxum 9, Minolta Maxxum 9000, Sony A100, Sony A200, Sony A300, Sony A33, Sony A35, Sony A350, Sony A37, Sony A400, Sony A450, Sony A500, Sony A55, Sony A550, Sony A550V, Sony A560, Sony A57, Sony A580, Sony A65, Sony A65V, Sony A700, Sony A77, Sony A77V, Sony A850, Sony A900, Sony A99 |
| S2 Compatible Models | Sony A3000, Sony A3500, Sony A5000, Sony A5100, Sony A6000, Sony A6300, Sony A6500, Sony A68, Sony A7, Sony A7 II, Sony A7 III, Sony A7R, Sony A7R II, Sony A7R III, Sony A7S, Sony A7S II, Sony A9, Sony A99 II, Sony NEX 3N, Sony NEX 5N, Sony RX 100, Sony RX 100 Mark II, Sony RX 100 Mark IV, Sony RX 100 Mark V, Sony RX10, Sony RX10 II, Sony RX10 III, Sony RX10 IV, Sony RX1R II |

* Specifications subject to change by the manufacturer without notice
* Dispatch timeframes are indications only and may vary for multiple quantities. Timeframes are updated regularly during normal business hours.