Think Tank Hydrophobia 300-600mm Rain Cover
SKU code: 26951
Protects Camera from Rain, Snow, Dust and more.
Fits DSLR's with 300-600mm or Similar Sized Lenses
Large Clear Window for Camera Controls and LCD Screen
Includes Mesh Carry Bag
Requires Eye-piece (sold separately)
You May
Also Like
Viewfinder & LCD: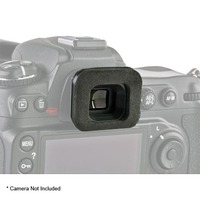 $54.00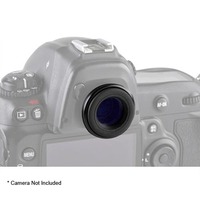 $54.00
The Think Tank Hydrophobia 300-600mm Rain Cover is a comprehensive solution for sports and wildlife photographers shooting in adverse weather conditions. Useful in rain, snow and dusty environments, the cover will ensure you're equipped to capture the moment in almost any weather.

Designed to fit most professional DSLRs with a super telephoto lens sized between 300 f/2.8 and 600mm f/4 attached. The Hydrophobia can be pre-mounted to your lenses and pulled out to cover the camera when needed.

A soft lens hood cover provides additional protection from the elements when the camera is not in use. The cover can be stored in the pocket on top of the lens or detached completely to save space.

The included mesh carry bag makes it easy to store and transport the cover allowing you to slip it into a backpack, ready to deploy as soon as the weather turns.

A specially designed eyepiece allows a clear view of the cameras viewfinder without compromising its water resistant integrity. The Hydrophobia requires one of five different eyepieces (sold separately) which are available to suit all Canon and Nikon DSLRs.

A large clear window on the back of the cover enables you to see the LCD screen and rear controls of the camera without exposing the camera to the external elements.

Additionally, the rear of the cover provides enough free space to be able use the camera in a portrait or landscape orientation and enables you to comfortably change batteries and memory cards without getting critical camera elements wet.

With its uncompromising design the Think Tank Hydrophobia Rain Cover for 300-600mm lenses is the ideal solution for demanding professionals and adventurous weekend shooters.

NOTE: An Eyepiece (sold separately) is required for proper use.
| | |
| --- | --- |
| Rain Cover Dimensions: | 63.5cmL x 22cmD |
| 600mm Lens Extension Sleeve Dimensions: | 20cmL x 22cmD |
| Weight: | 0.3 kg |
* Specifications subject to change by the manufacturer without notice
Think Tank Hydrophobia Rain Cover 300-600mm
600mm Extension Sleeve
Removable Lens Hood Cover
Mesh Carry Bag
* Dispatch timeframes are indications only and may vary for multiple quantities. Timeframes are updated regularly during normal business hours.