The Gorillas of Volcanoes National Park - Through the Lens
Written by Alison Mathison - May 07, 2020
You know when you're so excited for something that you almost start to doubt yourself that maybe, just maybe you've hyped yourself up too much and you're going to be left disappointed?? Well this was definitely not the case with our trip to Rwanda to trek with the mountain gorillas in Volcanoes National Park.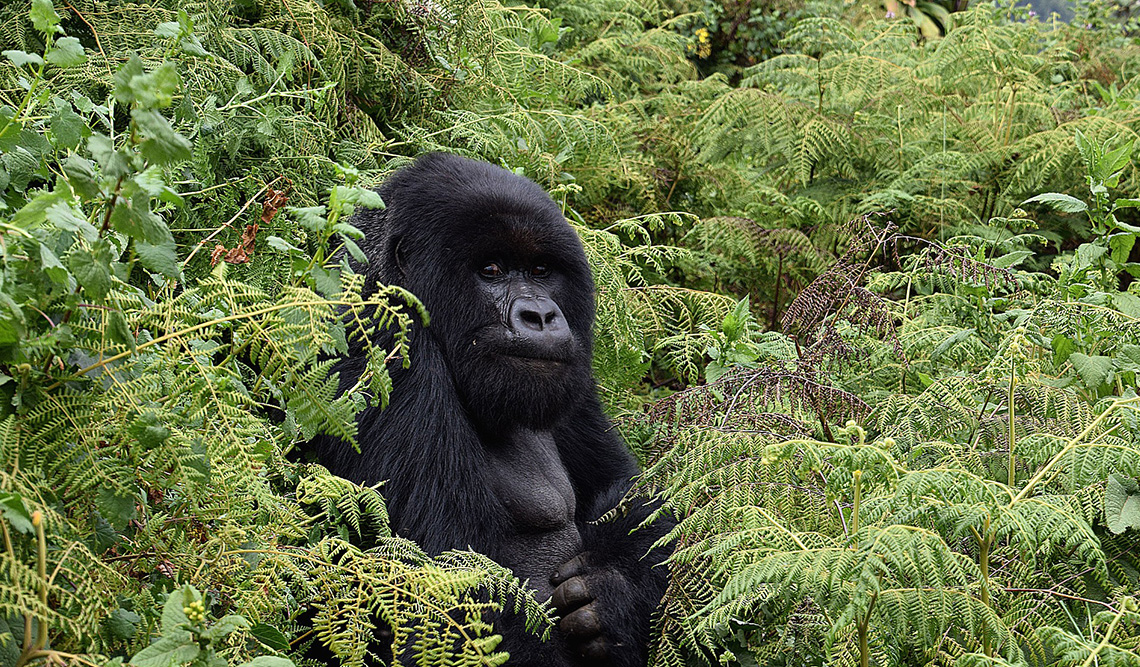 Before we set off on our adventure, I wanted to make sure I was fully prepared and had all the camera equipment I needed for this once in a lifetime trip. My husband and I have shopped at Digital Camera Warehouse before, so we knew they would be super helpful when we went back to get suggestions for the trip. We went to the Canterbury store, and were pointed in exactly the right direction. It was suggested that we get a Tamron 18-270mm f/3.5-6.3 Di IIVC PZD Lens, which is a compact, lightweight lens with an extremely versatile zoom range. As we wanted to travel with more than one camera (we already had a Nikon body), we were also advised that the Nikon Coolpix B600 would be ideal for what we needed. It has a 24-1400mm zoom, so would be perfect for getting close up details of the gorillas.
We decided to purchase a two-day trekking pass just in case something happened and we were unable to spend any time with the gorillas on our first day. The rules for trekking with the gorillas are very strict and at most you are allowed only one hour observing the gorillas once you arrive at their resting spot for the day. If the gorillas are unsettled or not happy with their human visitors, it's time to leave and trek back to your starting point.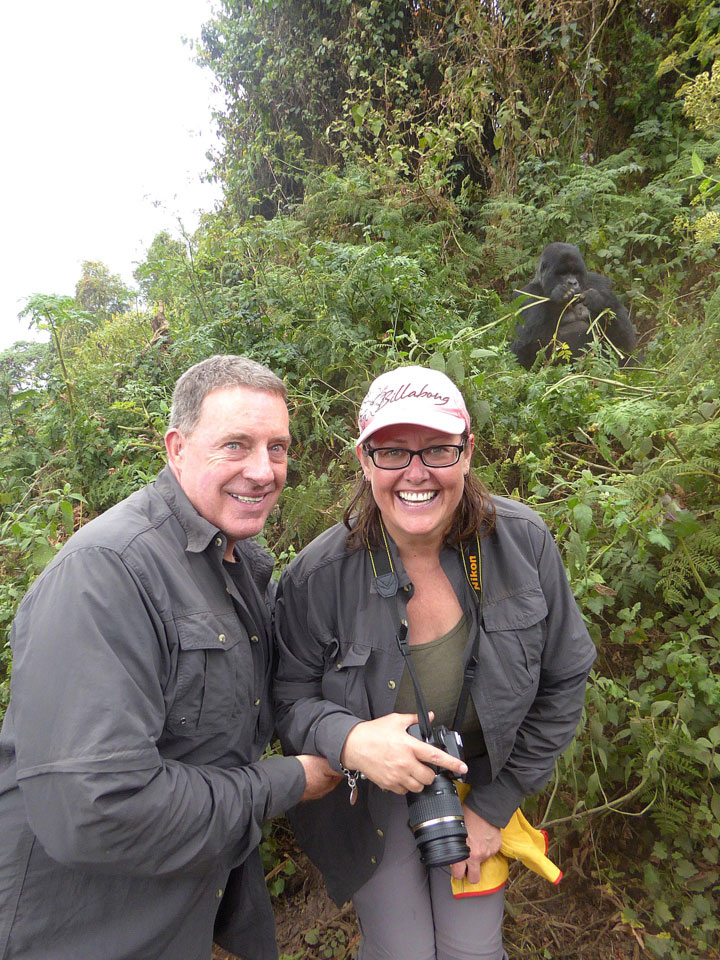 On our first day trekking we left our beautiful hotel in Ruhengeri around 5am to drive to Volcanoes National Park. Once you arrive, you're allocated a gorilla family and your guide starts with all the dos and don'ts you will need to follow throughout your trek. 10 gorilla families are visited once a day and there are only 8 humans in each group. This is to protect the gorillas and ensure they can go about the majority of their day without an audience.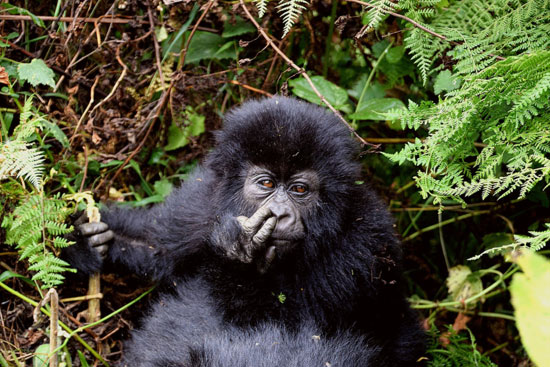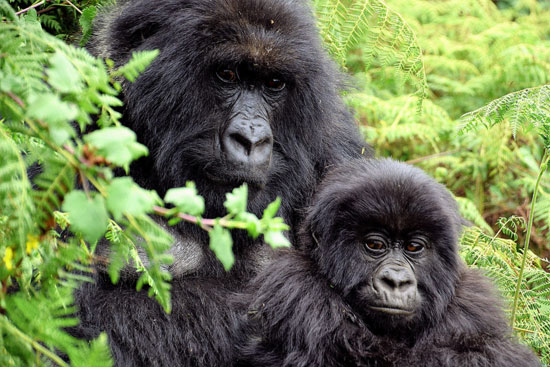 We were going to visit the Sabyinyo family on our first day and were told it would be a moderate trek through a bamboo forest. The Sabyinyo family consists of 18 gorillas; including a 17-year-old silverback. Our group set off chatting and laughing; this however didn't last too long as most of us felt the effects of high altitude and extreme humidity. Our guides were amazing as they cut their way through thick foliage and navigated their way to our gorilla family.
After climbing to an elevation of 2,700 metres in just over 2 hours of grunts, groans and lots of sweating we were finally ready to come face to face with the Sabyinyo family. Writing this, I'm starting to tear up as I remember just how overwhelming the entire experience was.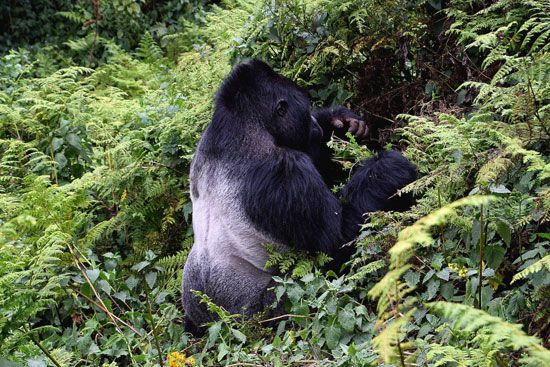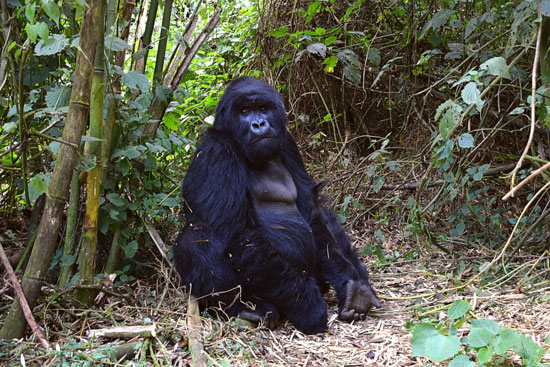 I actually burst into tears when I sighted my first gorilla and had to remind myself that we only had a maximum of 1 hour to spend with them. As you can imagine, the first thing you want to do is grab your camera and start shooting, but one of the best bits of advice I was given was to take photos, but don't get attached to your lenses and miss out on the unique experience of watching the magnificent gorillas. You are allowed to make eye contact, but you are not allowed to stare, and I must say looking into the eyes of a silverback is like nothing I have ever experienced.
I was taking photos with my Nikon D3500, along with our newly acquired Tamron 18-270mm lens, Nikon Coolpix B600, both of which were absolutely perfect for the mountain gorillas. I used the motor drive setting as the gorillas were constantly moving and it was so easy to capture countless number of photos while still being able to watch everything going on around me.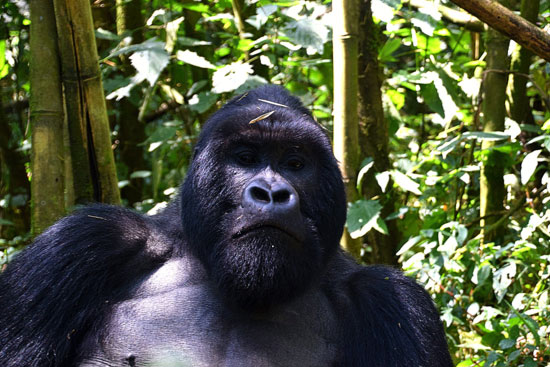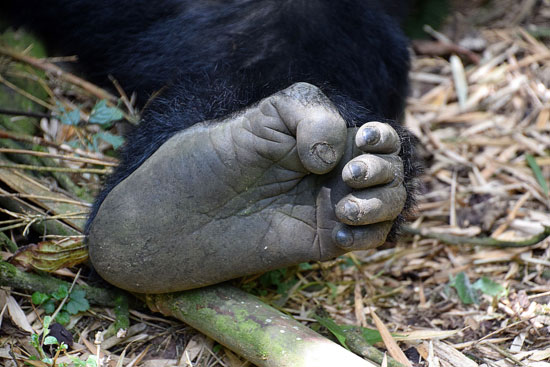 I can't put into words how much we were buzzing after our trek, and we went home knowing we had another early start the next day.
We decided on our second day of trekking to ask our guide if we could have an easier trek; well something was lost in translation as our visit to the Amahoro family was like our previous day's trek on steroids!! We trekked to over 3,000 metres through the thickest vegetation you could possibly imagine. The Amahoro family kept moving, so our trek to the family lasted for more than 3 hours, at times climbing vegetation so thick you could hardly get traction!! I was so out of my comfort zone and thank goodness for my incredible porter who held my hand along the way to stop me from falling.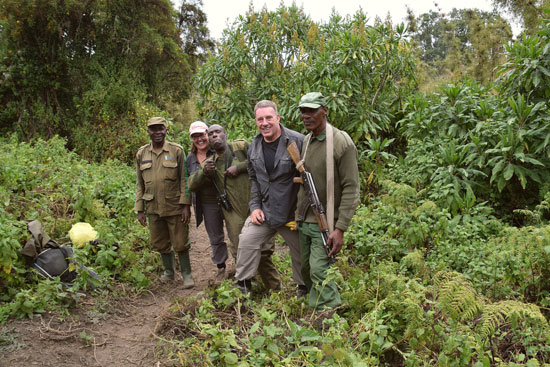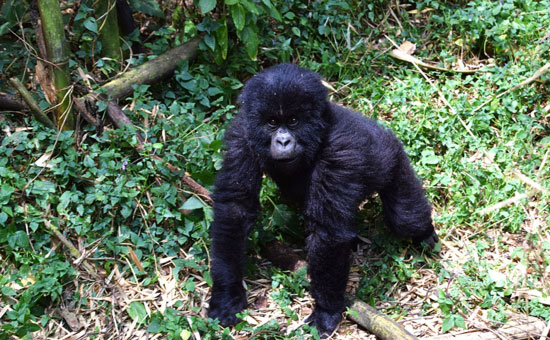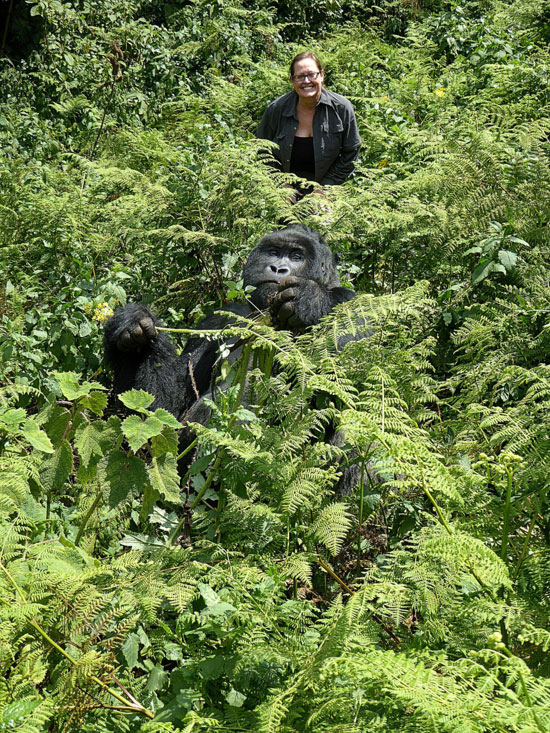 As we made our final climb up the incredibly steep terrain, the enormous silverback sat incredibly still watching us, his eyes so full of intelligence and soul. The Amahoro family was very active and at times we found ourselves surrounded by gorillas who were so agile on their knuckles and so at ease with us. The trackers and porters do the most amazing job of keeping the gorillas safe and the humans on their best behaviour!!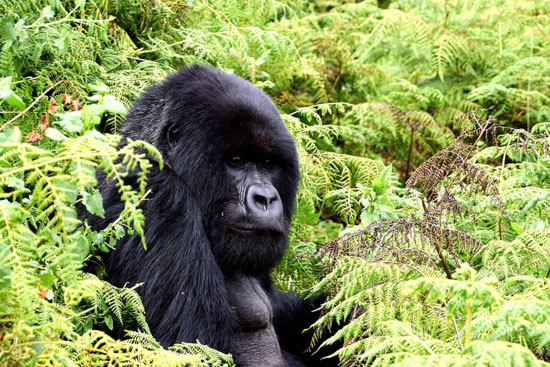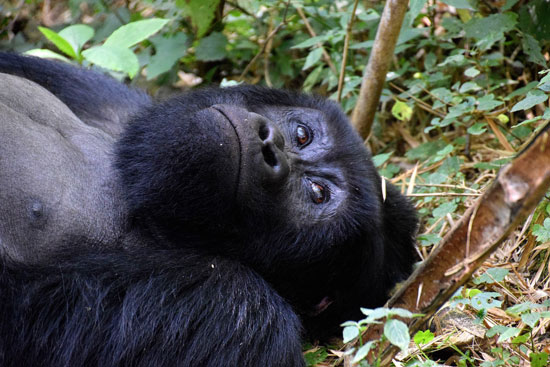 We were lucky enough to watch a mum breastfeeding her 3-month-old and another mum just cuddling her 3-week-old, it was truly a magical visit. Once again, I took so many photos with my Nikons but made sure I disconnected from my camera to make the most out of our visit. Your camera is the only thing you can take with you once you arrive at your gorilla family. Everything you carry on your trek must stay in your backpack away from the gorillas.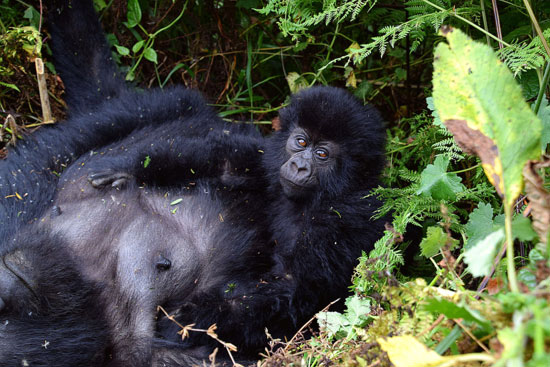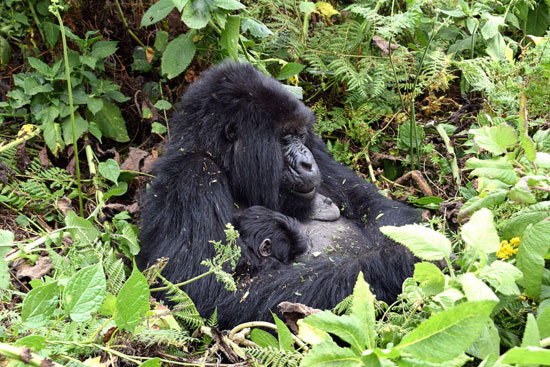 This was something I have always had on my bucket-list, and it certainly didn't disappoint. I still have photos of the gorillas from the trek in frames around the house and feel so lucky that I was able to capture these amazing moments.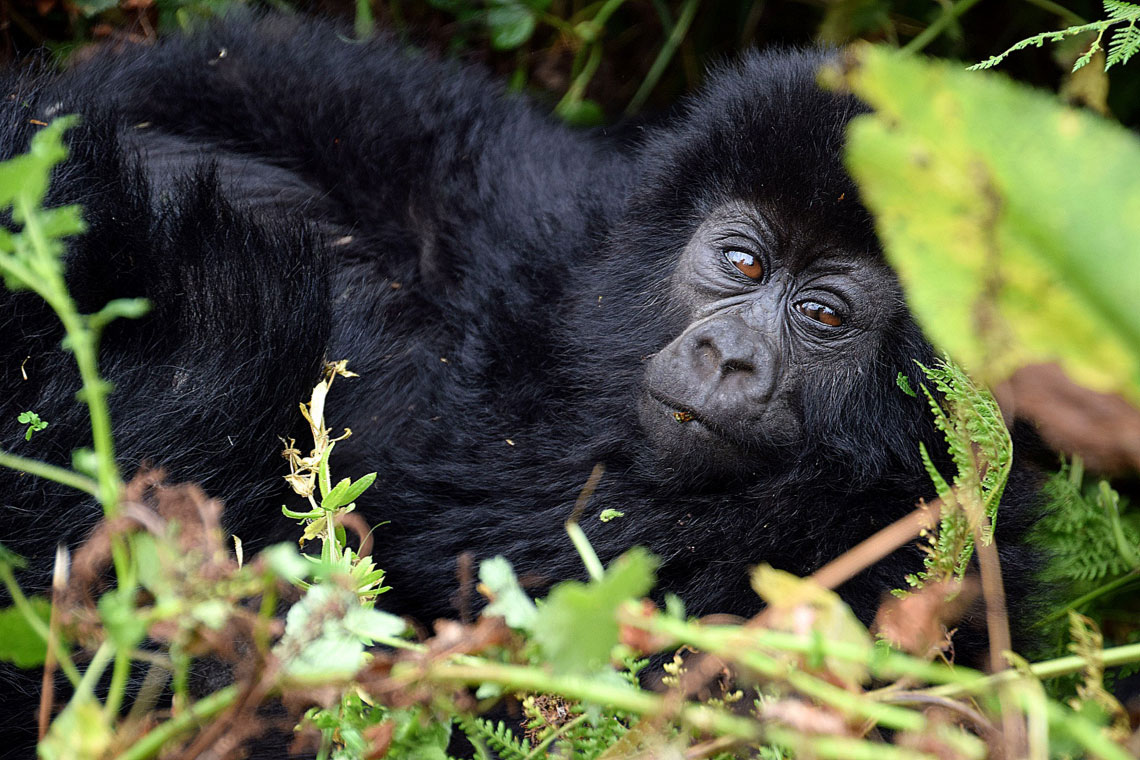 About the author
Alison Mathison
Alison is a mum to two beautiful girls and Ollie the dog. She loves her family and friends more than anything and always has her trusty camera handy to capture special moments. Alison is passionate about travelling the world embracing new cultures, customs and food along the way. Her best friend is Ian, who just happens to also be her husband and traveling partner of 35 years.