Fujifilm X-E3 - Body Only - Silver Ex-Demo
SKU code: 39301
24.3 Megapixel X-Trans CMOS III Sensor
X-Processor Pro Image Processor
Maximum ISO51200
325 Phase & Contrast AF Points
Built-in Bluetooth for Instant Photo Sharing
OLED Electronic Viewfinder
3-inch 1.04-million dot LCD
Film Simulation Modes
The Fujifilm X-E3 exudes a minimalist style that enables it to maximise functional performance. Its utilitarian design however, does not compromise on convenience, image quality or creative versatility making it a worthy successor to the popular X-E2 and X-E2s.
24.3 Megapixel X-Trans CMOS III Sensor
At its core is an updated 24.3 megapixel APS-C sized X-Trans CMOS III Sensor which captures vibrant, detail-rich images and Ultra HD 4K video. Continuing the tradition previous X-Series cameras, the the X-E3 eliminates the traditional low-pass filter, opting for a design which uses a unique random pixel array to maximise image sharpness and reproduce true-to-life colours.
X-Processor Pro Engine
Image processing is performed up to four times faster than the outgoing model thanks to its X-Processor Pro engine. Delivering excellent low-light performance with a maximum extended ISO51200, the processor is best suited to exploit the capability of the CMOS III Sensor in difficult lighting, while offering creative versatility with its ultra-sharp 4K video recording potential.
Ultra-Fast Imaging Performance
Capture a wide range of photographic subjects with confidence thanks to the impressive 8fps burst mode. Perfect for everything from fast action sports, to fleeting candid moments, the X-Processor also delivers a start-up time of approximately 0.4 seconds, AF speeds as quick as 0.06 seconds and reduced shutter lag time of up to 0.050 seconds, ensuring you're always ready for that decisive moment.
Phase & Contrast Detection Autofocus
The improved autofocus system features an impressive 325 AF points with 49 phase detection points covering 50% of the width and 75% of the height of the frame. Inheriting features from the more advanced X-T2 and X-T20, the updated system includes the Zone AF and Wide/Tracking mode function which allows configuration of a 3×3, 5×3 or 5×5 area from 77 sub-areas on an 11×7 grid to enable more accurate tracing of fast moving subjects.
Film Simulation Modes
Leveraging over 80 years of film production, the built-in Film Simulation mode enables you to instantly add a rich variety of colours shades and tones to your images. Choose looks from the most iconic Fuji film options including PROVIA, Velvia, ASTIA, Classic Chrome, PRO Neg and more. A Grain effect can also be applied to images to give your final result more texture and a film-like tone. Grain options include weak, strong and none, offering greater control of the final image output.
Instant Photo Sharing
Built-in Bluetooth Low Energy Wireless connectivity can be set up to automatically remain connected to your smartphone, ensuring the operation to transfer files or control the camera remotely is a seamless, intuitive experience. The free Fujifilm Camera App allows you to share vivid, high quality images with your friends, family and favourite social networks from the convenience of your smartphone or tablet, while remote control of the camera is great for selfies, vlogs and other creative possibilities.
Electronic Viewfinder & LCD Screen
With the choice of image composition via a large 3-inch 1.04 million-dot LCD screen or a 2.36 million-dot OLED electronic view finder and the support of an extensive range of compatible lenses and accessories, the Fujifilm X-E3 is well equipped to deliver fantastic images across a broad variety of photographic subjects.
Number of effective pixels
24.3 million pixels
Image sensor
23.5mm x 15.6mm [APS-C] X-Trans CMOS III with primary colour filter.
Sensor Cleaning System
Ultra Sonic Vibration
Storage media
SD Card[ - 2GB]/SDHC Card[ - 32GB]/SDXC Card[ - 256GB] UHS-I?1
File format
Still Image
JPEG: Exif Ver 2.3?2, RAW: 14bit RAW [RAF original format], RAW+JPEG
Movie
MOV [MPEG-4 AVC/H.264, Audio : Linear PCM / Stereo sound 48KHz sampling]
Number of recorded pixels
L:<3:2>6000×4000 / <16:9>6000×3376 / <1:1>4000×4000
M:<3:2>4240×2832 / <16:9>4240×2384 / <1:1>2832×2832
S:<3:2>3008×2000 / <16:9>3008×1688 / <1:1>2000×2000


L : 2160 x 9600 [Horizontal : 9600 x 1440]
M : 2160 x 6400 [Horizontal : 6400 x 1440]
Lens Mount
FUJIFILM X mount
Sensitivity
Standard Output
AUTO1 / AUTO2 / AUTO3[up to ISO12800] / ISO200 - 12800 [1/3EV step]
Extended Output
ISO100 / 125 / 160 / 25600 / 51200
Exposure control
TTL 256-zone metering, Multi / Spot / Average/ Centre Weighted
Exposure mode
P[Program AE]/A[Aperture Priority AE]/S[Shutter Speed Priority AE]/M[Manual Exposure]
Exposure compensation
-5.0EV - +5.0EV 1/3EV step
[Movie: -2.0EV - +2.0EV]
Image Stabilizer
Supported with OIS type lenses
Shutter type
Focal Plane Shutter
Shutter speed
Mechanical Shutter
P mode: 4sec. to 1/4000sec.
A mode: 30sec. to 1/4000sec.
S/M mode: 15min. to 1/4000sec.
Bulb mode: up to 60min.
Electronic Shutter?3
P mode: 4sec. to 1/32000sec.
A mode: 30sec. to 1/32000sec.
S/M mode: 15min. to 1/32000sec.
Bulb mode: 1sec. fixed
Mechanical + Electronic Shutter
P mode: 4sec. to 1/32000sec.
A mode: 30sec. to 1/32000sec.
S/M mode: 15min. to 1/32000sec.
Bulb mode: up to 60min.
Synchronized shutter
speed for flash
1/180sec. or slower
Continuous shooting
Approx. 14fps [Only Electronic Shutter][JPEG:35 frames Lossless compression RAW:22 frame Uncompressed RAW:21 frames]
Approx. 11fps [Only Electronic Shutter][JPEG:53 frames Lossless compression RAW:23 frame Uncompressed RAW:21 frames]
Approx. 8.0 fps [JPEG:62 frames Lossless compression RAW:25 frame Uncompressed RAW:23 frames]
Approx. 5.0 fps [JPEG:68 frames Lossless compression RAW:28 frame Uncompressed RAW:25 frames]
Approx. 4.0 fps [JPEG:73 frames Lossless compression RAW:29 frame Uncompressed RAW:25 frames]
Approx. 3.0 fps [JPEG:81 frames Lossless compression RAW:32 frame Uncompressed RAW:27 frames]
* Use a card with UHS Speed Class 1.
* Speed of continuous shooting depends on shooting environment and shooting frames.
Auto bracketing
AE Bracketing[2/3/5/7/9 frames] ±1/3EV- ±3EV, 1/3EV step
Film Simulation Bracketing [Any 3 types of film simulation selectable]
Dynamic Range Bracketing [100%, 200%, 400%]
ISO sensitivity Bracketing [±1/3EV, ±2/3EV, ±1EV]
White Balance Bracketing [±1, ±2, ±3]
Focus
Mode
Single AF / Continuous AF / MF
Type
Intelligent Hybrid AF [TTL contrast AF / TTL phase detection AF], AF assist illuminator available
AF frame selection
Single point AF: EVF/LCD: 13x7/25x13[Changeable size of AF frame among 6 types]
Zone AF: 3×3/5×5/7×7 from 91 areas on 13x 7 grid
Wide/Tracking AF: [up to 18 area] ?AF-S: Wide ?AF-C: Tracking
ALL
White balance
Automatic scene recognition / Custom / Colour temperature selection [K] / Pre set : Daylight, Shade, Fluorescent light [Daylight], Fluorescent light [Warm White], Fluorescent light [Cool White], Incandescent light, Underwater
Self-timer
10sec. / 2sec.
Interval timer Shooting
YES
Setting : Interval, Number of shots, Starting time
Flash
*EF-X8[Included]
Shoe mount flash EF-X8[Super Intelligent Flash]
Guide Number: Approx. 11[ISO200·m] / Approx. 8[ISO100·m]
Flash modes
FLASH MODE
TTL[FLASH AUTO/STANDARD/SLOW SYNC.]/MANUAL/COMMANDER/OFF
SYNC. MODE
1ST CURTAIN / 2ND CURTAIN
Hot shoe
Yes [Dedicated TTL Flash compatible]
Viewfinder
0.39-in., Approx. 2,360K-dot OLED colour viewfinder, Coverage of viewing area vs. capturing area : Approx. 100%
Eye point : Approx. 17.5mm [ from the rear end of the camera's eyepiece], Diopter adjustment : -4m - +2m-1[dpt]
Magnification : 0.62x with 50mm lens[35mm format equivalent] at infinity and diopter set to -1m-1.
Diagonal angle of view : Approx. 30°[ Horizontal angle of view : Approx. 25°] Built-in eye sensor
LCD monitor
3.0-inch, aspect ratio 3:2,
Approx. 1040K-dot touch screen colour LCD monitor [Approx. 100% coverage]
Movie recording
4K [3840 x 2160] 29.97p / 25p / 24p/23.98P, 100Mbps Continuous recording : up to Approx. 10 min.
Full HD [1920 x 1080] 59.94p / 50p / 29.97p / 25p / 24p/23.98P, 36Mbps Continuous recording : up to Approx. 15 min.
HD [1280 x 720] 59.94p / 50p / 29.97p / 25p / 24p/23.98P, 18Mbps Continuous recording : up to Approx. 30 min.
*For 4K movie recording, use a card with UHS Speed Class 3 or higher.
*Although movie recording will continue without interruption when the file size reaches 4 GB, subsequent footage will be recorded to a separate file which must be viewed separately.
Photography functions
Advanced SR AUTO, Highlight tone, Shadow tone, Colour, Sharpness, Noise reduction, Long exposure NR, Lens Modulation Optimizer, Colour Space, Pixel mapping, Select custom setting, Edit/Save custom setting, Min. shutter speed, AF-C Custom settings, Store AF mode by orientation, Pre-AF, Face/Eye detection AF, AF+MF, Focus check, Focus peak highlight, Digital Split Image™?4, Interlock spot AE & Focus area, Instant AF setting(AF-S/AF-C), Depth-of-field scale, Release/Focus priority, Touch screen mode, Mount adapter setting, Red eye removal, Movie AF mode, RGB Histogram, Highlight alert, Electronic level, Preview depth of field, AE LOCK, AF LOCK, AF-ON, Multiple exposure
Touchscreen mode
Shooting Mode
Touch Shooting, AF, Focus Area, OFF
Touch Function, EVF Touch Screen Area Settings(ALL, RIGHT, LEFT, OFF)
Playback Mode
Swipe, Zoom, Pinch-in / Pinch-out, Double-tap, Drag
Film Simulation mode
15 modes [PROVIA/Standard?Velvia/Vivid?ASTIA/Soft?Classic Chrome?PRO Neg.Hi?PRO Neg.Std?Black& White?Black& White+Ye Filter?Black& White+R Filter?Black& White+GFilter?Sepia?ACROS?ACROS+Ye Filter?ACROS+R Filter?ACROS+G Filter]
Grain Effect
STRONG , WEAK , OFF
Dynamic range setting
AUTO, 100%, 200%, 400%
Advanced filter
Toy camera / Miniature / Pop colour / High-key / Low-key / Dynamic tone / Soft focus / Partial colour [Red / Orange / Yellow / Green / Blue / Purple]
Playback functions
RAW conversion, Image rotate, Auto image rotate, Face Detection, Red-eye removal, Photobook assist, Erase selected frames, Multi-frame playback [with micro thumbnail], Slide show, Protect, Crop, Resize, Panorama, Favourites, Image Transfer Order
Wireless transmitter
Standards
IEEE 802.11b / g / n [standard wireless protocol]
Access mode
Infrastructure
Encryption
WEP/WPA/WPA2 mixed mode
Bluetooth®
Standards
Bluetooth Ver 4.0(Bluetooth low energy)
Operating frequency
[Centre frequency]
2402~2480MHz
Wireless function
Geotagging, Wireless communication [Image transfer], View & Obtain images, Remote camera shooting, PC autosave, instax printer print, Pairing registration, Delete pairing registration, Bluetooth ON/OFF setting, Auto image transfer
Other functions
Exif Print, Date/Time, Time difference, 35 Languages, My menu setting, Sensor cleaning, Sound set-up, EVF brightness, EVF colour, LCD brightness, LCD colour, Image disp., Auto rotate displays, Preview exp./WB in manual mode, Preview pic. effect, Framing guideline, Autorotate PB, Focus scale units, Disp. custom setting, Selector button setting, Edit/Save Quick menu, Function (Fn) setting, Command dial setting, Shutter AF, Shutter AE, Shoot without lens, Focus ring, AE/AAF-Lock mode, Expo. Comp. button setting, Touch screen setting, Auto power off, Performance setting, Frame No., Save org image, Edit file name, Copyright info.,
Terminal
Digital interface
USB2.0 [High-Speed] / micro USB terminal
*connectable with Remote Release RR-90 [sold separately]
HDMI output
HDMI Micro connector [Type D]
Other
F2.5mm, stereo mini connector [Microphone]
Power supply
NP-W126S Li-ion battery [included]
Battery life for still images?5
Approx. 350 frames [When XF35mmF1.4 R is set, LCD monitor ON, Standard Mode]
Actual battery life of movie capture?5
?Face detection is set to OFF
4K:Approx. 50 min., FULL HD:Approx. 60 min.
Continuance battery life of movie capture?5
?Face detection is set to OFF
4K:Approx. 70 min., FULL HD:Approx. 95 min.
Dimensions
121.3mm [W] x 73.9mm [H] x 42.7mm [D] / 4.78in. [W] x 2.91in. [H] x 1.68in. [D]
[Minimum depth : 32.4mm / 1.28 in.]
Weight
Approx. 337g / 11.9 oz. [including battery and memory card]
Approx. 287g / 10.1 oz. [excluding accessories, battery and memory card]
Operating Temperature
0? - 40? [+32°F - +104°F]
Operating Humidity
10% - 80% [no condensation]
Starting up period
Approx. 0.4 sec.
*1 Please see the Fujifilm website to check memory card compatibility.
*2 Exif 2.3 is a digital camera file format that contains a variety of shooting information for optimal printing.
*3 The Electronic Shutter may not be suitable for fast-moving objects. Flash can not be used.
*4 Digital Split Image is a trademark or a registered trademark of FUJIFILM Corporation.
*5 Approximate number of frames / period that can be taken with a fully-charged battery based on CIPA standard.
*Manufacturers specifications subject to change without notice.
Fujifilm X-E3 Camera Body
Li-ion battery (NP-W126S)
Battery charger (BC-W126)
Body Cap
Shoe-mount Flash Unit (EF-X8)
Shoulder Strap
Metal Strap Clip
Protective Cover
Clip Attaching Tool
Manufacturer Warranty
---

This product comes with a
12month Australian warranty
from Fujifilm Australia
Want to read more about warranties?
Add extra protection for peace of mind
---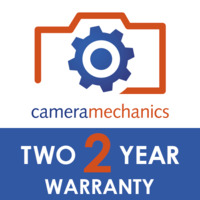 $89.00
* Dispatch timeframes are indications only and may vary for multiple quantities. Timeframes are updated regularly during normal business hours.