DJI Inspire 2 Premium Combo - Quadcopter + Remote Control +Zenmuse X5S + 17mm f/1.4 Lens
SKU code: 35465
Rigid, Lightweight Construction
CineCore 2.0 Image Processor
Built-in FPV Camera with 2-Axis Gimbal
3x Obstacle Avoidance Sensors
7km / 28 Minute Flight Range
Dual Battery System
Dual 2.5GHz / 5.8GHz Frequency Controller
Includes Inspire 2 Drone, Remote Controller, X5S Camera, 15mm f/1.7 Lens
The DJI Inspire 2 takes aerial filmmaking and photography to the next level. Designed for professional filmmakers and serious enthusiasts, it features a raft of improvements over the previous Inspire 1 to create a truly versatile platform capable of shooting virtually any scene in any light.
To prove this, DJI produced a short film, shot entirely using the DJI Inspire 2.
Carbon Fibre + Magnesium Aluminium Construction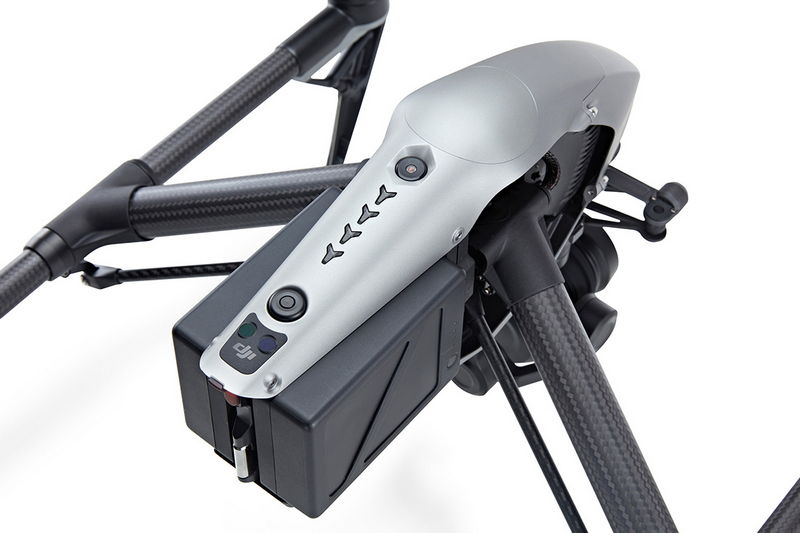 Lighter, stronger and more powerful than its predecessor, the Inspire 2 features a redesigned magnesium-aluminium body with lightweight carbon fibre "T" junction airframe connections enabling it to go from 0 to 80km/h in just 5 seconds, up to an astonishing maximum top speed of 93km/h. A class leading max descent speed of 9m/s equips you with the agility to create complex, dramatic shots while following cars, motorbikes or even extreme sports athletes. A dual battery system now extends the flight time to a maximum of 27 minutes, allowing you to stay airborne for longer to give you the best opportunity to get the shots you need.
Powerful CineCore 2.0 Image Processor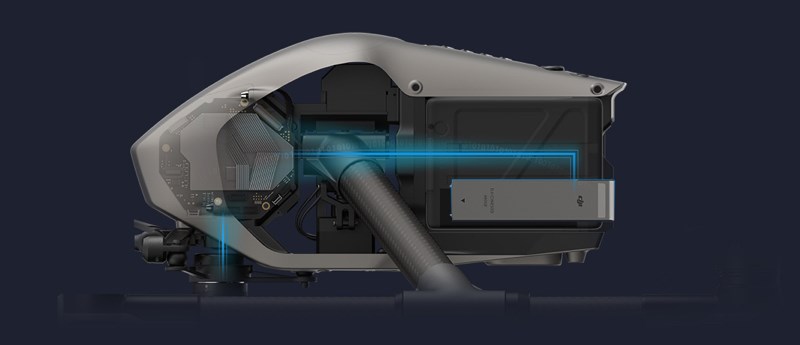 Embedded inside the nose of the Inspire 2 is DJI's CineCore2.0 image processor. Capable of recording at a maximum resolution of 5.2K in CinemaDNG RAW, Apple ProRes and more, it provides editors and videographer's maximum creative versatility without compromising on image quality. DJI's removable CINESSD* storage system is integrated into the airframe to make your workflow as convenient as possible while adding an additional level of protection for your data. Smooth, steady footage comes easily with thanks to the three damping balls and a damping board setup.
Zenmuse X5S 20.8 Megapixel 5.2K Camera + Gimbal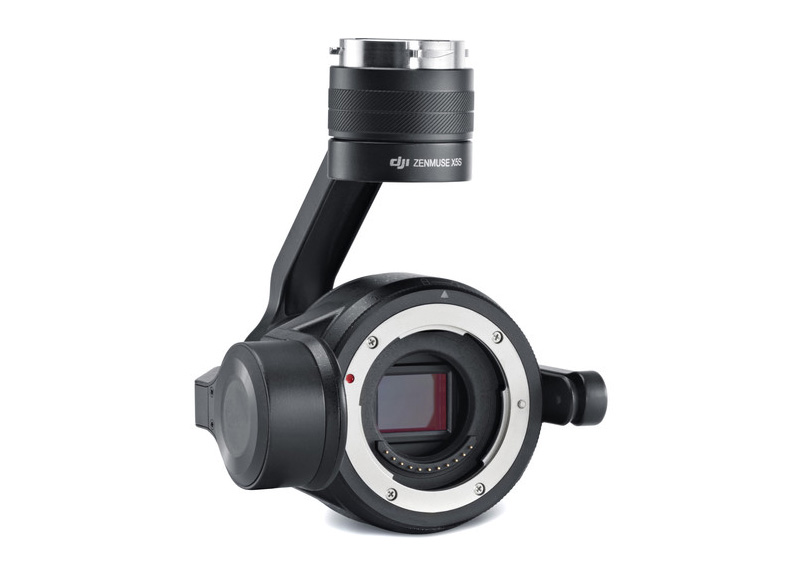 The Zenmuse X5S interchangeable lens camera and gimbal combo is designed to keep up with the rigorous demands of high-end professional aerial photography and videography. Its 20.8 megapixel Micro Four Thirds sensor offers recording in 5.2K @ 30fps, 4K @ 60fps and 12.8 stops of dynamic range, delivering detail rich, low noise images in a broad range of lighting conditions.
Shoot Photos and Video Simultaneously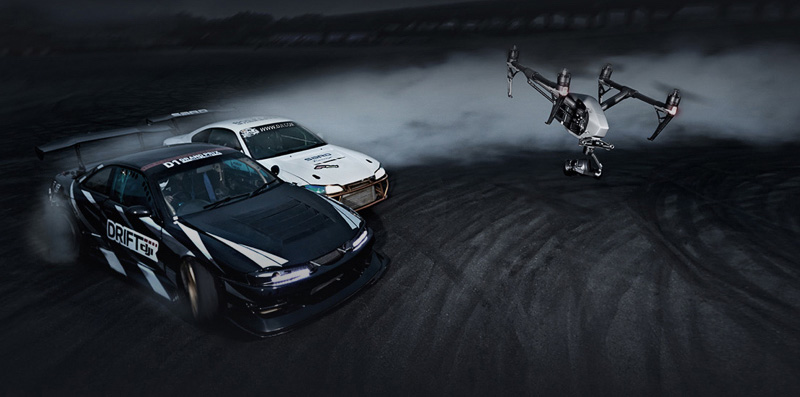 The camera can shoot 20.8 megapixel RAW stills at 20fps in continuous burst mode when saving images onto the CINESSD, or 14fps when saving onto a MicroSD card. Additionally, still photos can be taken during video recording without interruption for maximum creative efficiency.
Includes 15mm f/1.7 ASPH Lens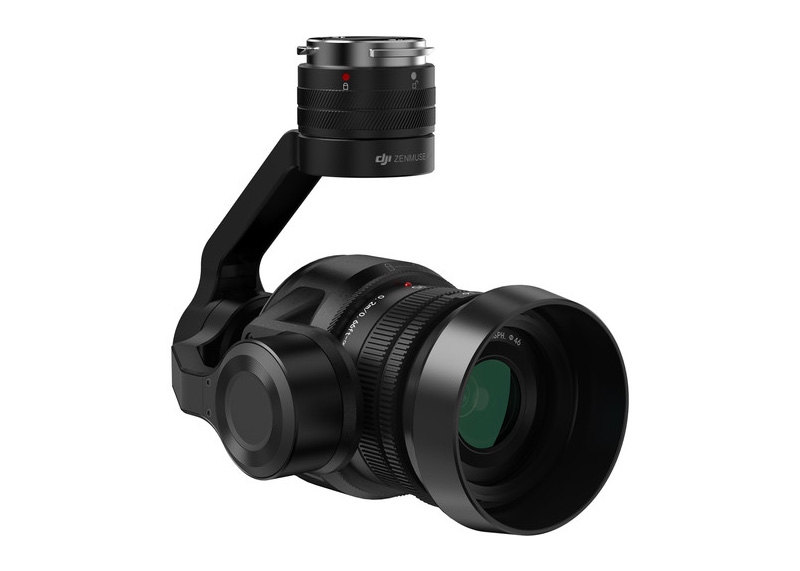 The Premium Combo includes the DJI 15mm f/1.7ASPH lens, great for a broad range of shooting scenarios, but also supports eight M4/3 mount lenses at various focal lengths ranging from 18-90mm (35mm equivalent) for even better framing and shooting versatility.
Built-in FPV Camera with 2-Axis Gimbal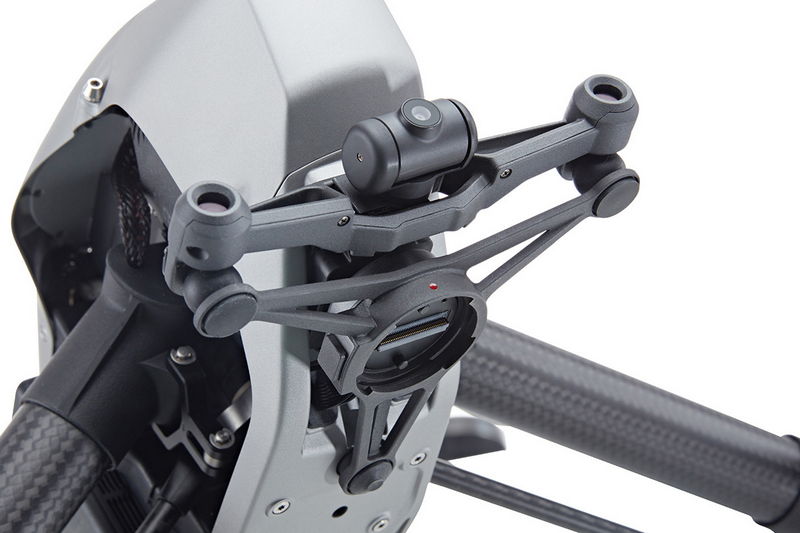 A significant addition to the Inspire 2 is its 2-axis gimbal stabilized global shutter FPV camera. Ideal for executing complex moves and precision framing, the built-in camera delivers a clear view of the environment ahead separating the responsibilities of the pilot and camera operator for an unparalleled level of creative possibility. Given the 7km maximum range of the Inspire 2, the on-board camera utilises a controllable pitch range of 0° to -60°, and is an important addition, offering the pilot a more complete picture of the environment they are flying within.
Using Lightbridge HD video transmission technology, its video feed transmits along with the feed from the primary camera to the DJI GO app, so both pilot and camera operator can get the view they need to capture the shot and bring the drone back safely.
3x Built-in Obstacle Avoidance Sensors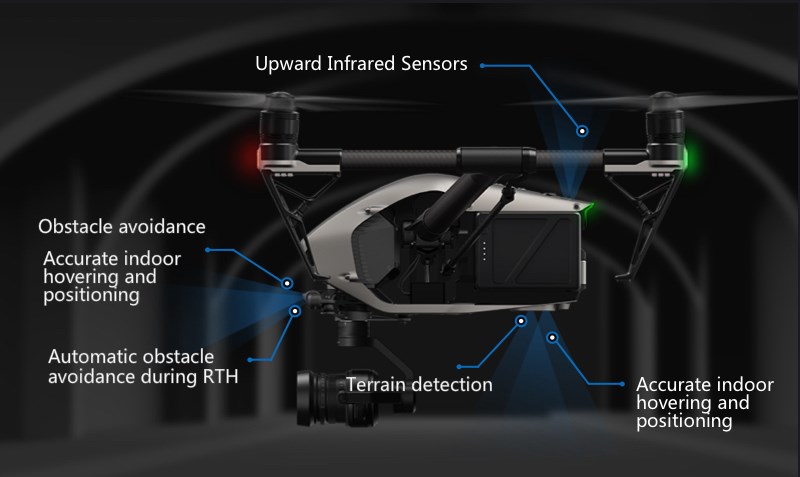 The built-in FPV camera is complemented by forward and downward vision system that allow the drone to detect obstacles up to 30 metres ahead when flying at speeds under 54km/h. Upward facing infrared sensors complete the avoidance detection system by scanning for obstacles 5 metres above, allowing you to fly with confidence when filming in enclosed spaces.
Lightbridge HD Video Transmission System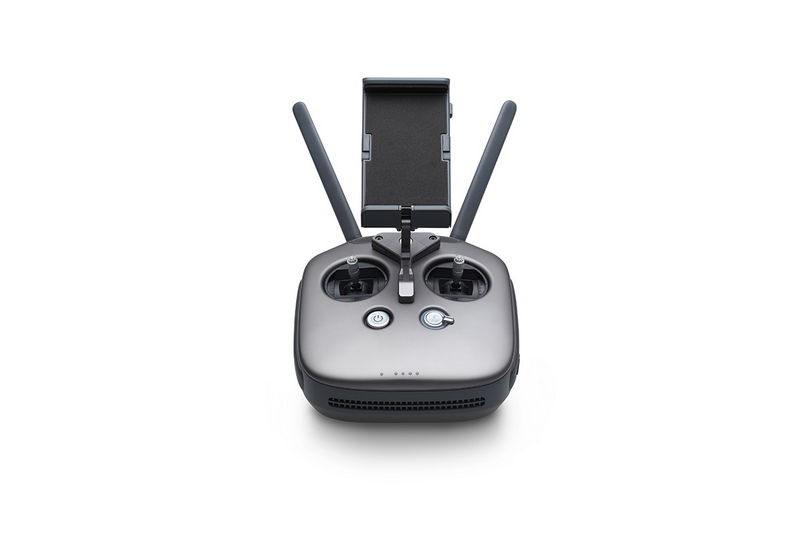 Selectable 2.4GHz and 5.8GHz frequencies are supported by the Inspire 2 controller. Traditionally, video transmissions use 2.4GHz Wi-Fi while the remote control link operates on 5.8GHz to minimise signal loss. However, the Inspire 2's Lightbridge HD video transmission system uses a Time-division multiplexing mechanism to transmit both video feed and remote control signals on the same frequency for maximum reliability.
Auto Frequency Scanning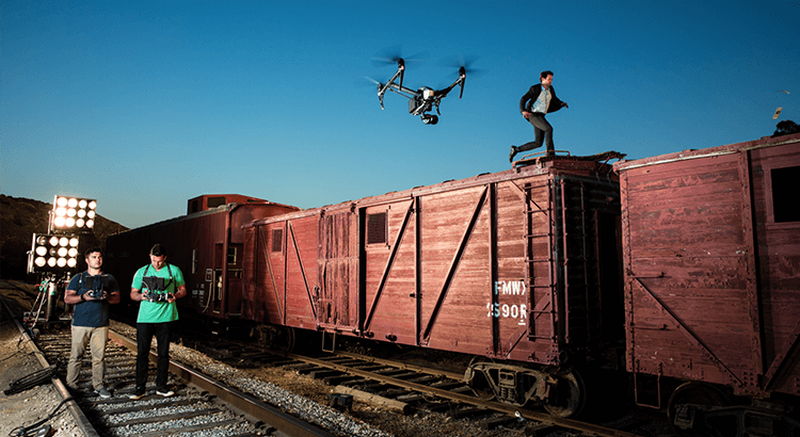 When flying in urban areas, the 2.4GHz frequency band may suffer from high levels of signal interference from sources such as Wi-Fi routers and 4G base stations. As an option, the 5.8GHz frequency provides a broader communication bandwidth and has more available channels for transmission, making it more suitable for stable signal transmission in these types of environments. After powering on, the Inspire 2 automatically scans the environment and selects the band with the least amount of interference, ensuring optimum video feed quality and remote control reliability tailored for your specific location.
Custom Subject Tracking Profiles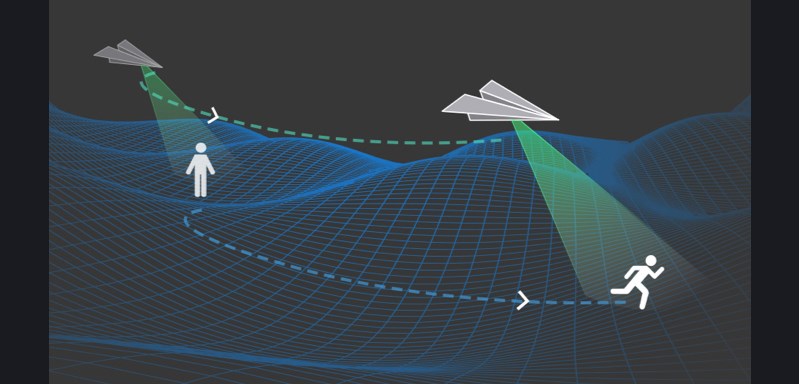 The range of on-board sensors is complemented by the improved functionality in the DJI GO app. It now offers customised tracking profiles for people, cars, boats and bikes, improving the reliability and overall precision of the subject being tracked.
Spotlight Mode Tracking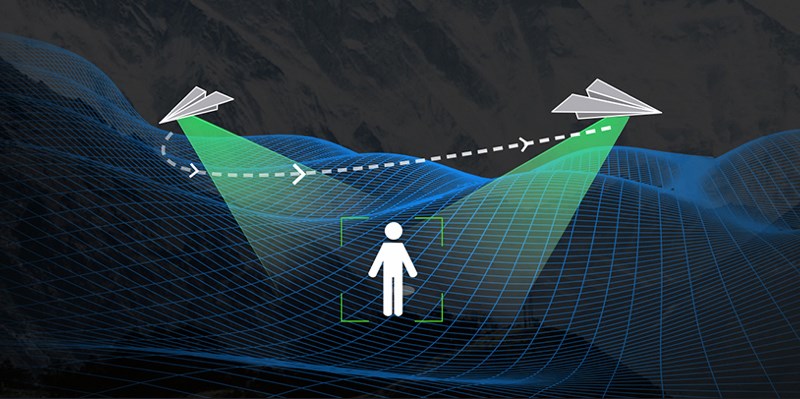 Utilise the Spotlight Pro mode to track your subject independently to the drone position. Its visual tracking algorithms are designed to lock the camera onto your chosen subject, regardless of the direction the Inspire 2 is flying, allowing you to easily create shots that would have previously required both a pilot and camera operator. If the gimbal comes close to reaching its rotation limits, the system is intelligent enough to rotate the drone in the same direction without affecting flight control to free up gimbal movement.
Intelligent Return Home Failsafe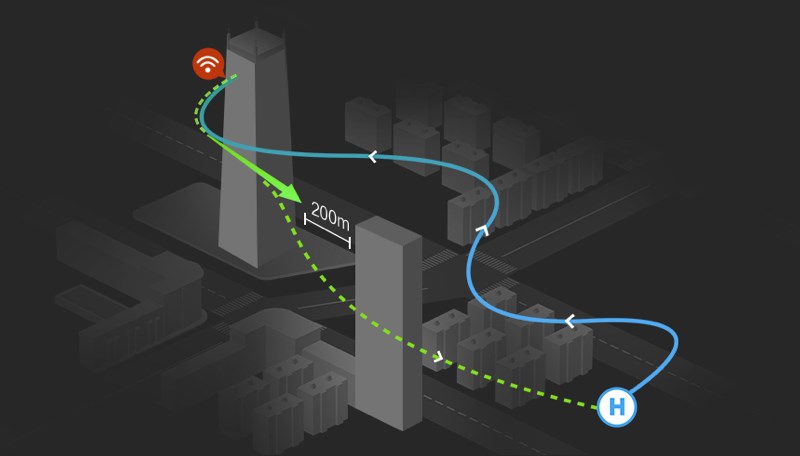 In the event the drone loses signal with the controller or the video transmission system, the Smart Return Home failsafe is activated to help bring the drone back to you quickly and safely. The feature records a real-time map of its flight route and upon recognising that its lost signal will retrace its virtual footsteps towards its original take-off point. Should it regain signal while retracing its path, the Inspire 1 will use its FPV camera to identify objects up to 200m in the distance to break from the original recorded flight path and choose a more direct flight path, minimise the risk of losing power while the aircraft is returning home.
Dual Redundancy Components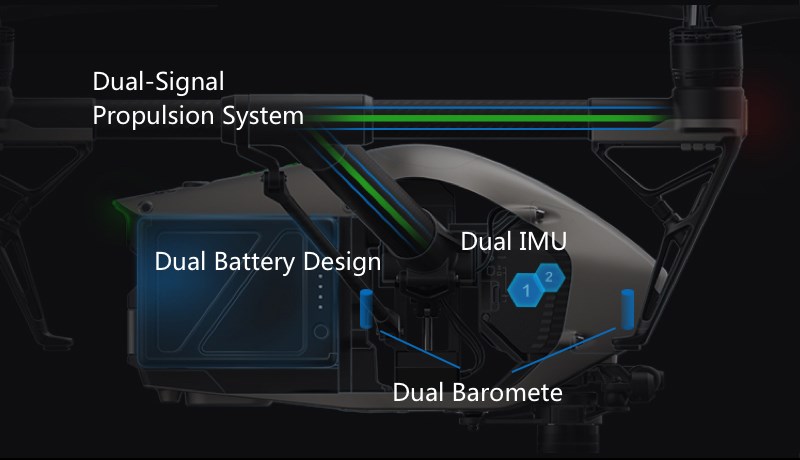 Designed with the requirements of professionals in mind, quadcopter also features a raft of dual redundancy components including the IMU, compass and barometer. Its dual battery system ensures if a problem occurs with one battery, the other is able to continue flight long enough for a safe landing. The propulsion system features a PWM signal with serial port redundancy, allowing communication through the serial port if signal loss occurs.
Spare Parts and Accessories
The DJI Inspire 2 also features a raft of accessories to optimise your workflow or keep you in the air for longer. Its CINESSD drives come in 120GB or 480GB variants and can be combined with the CINESSD Station for fast, direct file transfer to your desktop or laptop computer. Naturally, standard accessories such as additional batteries, propellers, remote control and a carrying case are also available to deliver a complete, professional solution for all your commercial flying needs.
This kit includes the DJI Inspire 2 Drone, Remote Controller, Zenmuse X5S Camera, DJI 15mm f/1.7 ASPH Lens and Licence Keys for CinemaDNG and Apple ProRes.
*Sold Separately
AIRCRAFT (MODEL: T650)
| | |
| --- | --- |
| Weight | 3290g, including two batteries, without gimbal and camera) |
| Diagonal Distance(propeller excluded) | 605mm, Landing Mode |
| Max Takeoff Weight | 4000g |
| Max Takeoff Sea Level | 2500m; 5000m with specially-designed propeller |
| Max Flight Time | Approx. 27 min (with Zenmuse X4S) |
| Max Tilt Angle | P-mode: 35° (Forward Vision System enabled: 25°); A-mode: 35°; S-mode: 40° |
| Max Ascent Speed | P-mode/A-mode: 16.4 ft/s (5 m/s); S-mode: 19.7 ft/s (6 m/s) |
| Max Descent Speed | Vertical: 13.1 ft/s (4 m/s); Tilt: 13.1-29.5 ft/s (4-9 m/s) Default tilt is 13.1 ft/s (4 m/s), can be set in-app. |
| Max Speed | 93km/h |
| GPS Hovering Accuracy | Vertical: ±1.64 feet (0.5 m) or ±0.33 feet (0.1 m, Downward Vision System enabled) Horizontal: ±4.92 feet (1.5 m) or ±0.98 feet (0.3 m, Downward Vision System enabled) |
| Operating Temperature | -10°C to 40°C |
GIMBAL
| | |
| --- | --- |
| Angular Vibration Range | ±0.01° |
| Controllable Range | Pitch: -130° to+40°; Roll: ±20°; Pan: ±320° |
| Max Controllable Speed | Pitch: 90°/s; Roll: 90°/s; Pan: 90°/s |
FORWARD VISION SYSTEM
| | |
| --- | --- |
| Obstacle Sensing Range | 0.7-30 m |
| FOV | Horizontal: 60°; Vertical: 54° |
| Operating Environment | Surfaces with clear patterns and adequate lighting (> 15 lux) |
DOWNWARD VISION SYSTEM
| | |
| --- | --- |
| Velocity Range | < 10m/s at height of 2m |
| Altitude Range | < 10m |
| Operating Range | < 10m |
| Operating Environment | Surfaces with clear patterns and adequate lighting (> 15 lux) |
| Ultrasonic Sensor Operating Range | 10-500cm |
| Ultrasonic Sensor Operating Environment | Non-absorbing material, rigid surface (thick indoor carpeting will reduce performance) |
UPWARD INFRARED SENSOR
| | |
| --- | --- |
| Obstacle Sensing Range | 0-5m |
| FOV | ±5° |
| Operating Environment | Large-size non-reflective obstacles |
REMOTE CONTROLLER
| | |
| --- | --- |
| Operating Frequency | 2.400-2.483 GHz; 5.725-5.850 GHz |
| Max Transmitting Distance | 2.4 GHz: 7 km, FCC; 3.5 km, CE; 4 km, SRRC |
| (unobstructed, free of interference) | 5.8 GHz: 7 km, FCC; 2 km CE; 5 km, SRRC |
| EIRP | 2.4 GHz: 26dBm (FCC); 17dBm (CE); 20dBm (SRRC) 5.8 GHz: 28dBm (FCC); 14dBm (CE); 20dBm (SRRC) |
| Battery | 6000mAh 2S LiPo |
| Output Power | 9 W (Not supply power for mobile device) |
| USB Supply Power | iOS: 1 A @ 5.2 V (Max); Android: 1.5 A @ 5.2 V (Max) |
| Operating Temperature | -10°C to 40°C |
INTELLIGENT FLIGHT BATTERY (MODE: TB50-4280MAH-22.8V)
| | |
| --- | --- |
| Capacity | 4280mAh |
| Voltage | 22.8V |
| Battery Type | LiPo 6S |
| Energy | 97.58Wh |
| Net Weight | 515g |
| Charging Temperature | 5°C to 40° C |
| Operating Temperature | -10° to 40°C |
| Max Charging Power | 180W |
CHARGER (MODE: IN2C180)
| | |
| --- | --- |
| Voltage | 26.1V |
| Rated Power | 180W |
CHARGING HUB (MODE: IN2CH)
| | |
| --- | --- |
| Input Voltage | 26.1V |
| Input Current | 6.9A |
* Specifications subject to change by the manufacturer without notice
DJI Inspire 2 Aircraft Body
Remote Controller
Zenmuse X5S Interchangeable Lens Camera
DJI 15mm f/1.7 ASPH Lens
CinemaDNG Licence Key
Apple ProRes Licence Key
4x Propellers
2x Intelligent Flight Battery
Battery Charger
Charging Hub
Power Cable
USB Cable
MicroSD Card
Vision System Calibration Plate
3x Gimbal Damper
Propeller Mounting Plates
Carry Case
4x Battery Insulation Stickers
Front Lens Cap
Rear Lens Cap
* Dispatch timeframes are indications only and may vary for multiple quantities. Timeframes are updated regularly during normal business hours.