Smartphone or Cameras - What's right for creating live streaming videos? - Part 1
Written by Dean Butters - Apr 02, 2020
Although it may seem easy enough to attach your phone to a tripod and start filming yourself, there a few considerations that you should think about before you embark on your vlogging adventure. For instance, should we use a camera or a Smartphone? If it's a camera then what type?
If you do decide that you want your vlogs to have that bit extra and want to film on a camera, there are a number of factors to take into account when deciding on which model would best suit you; there are a few different camera types to consider. There are:
Then comes the question of where are you going to shoot, do you plan on being stationary or moving around and do you want to live stream or produce edited, clean cut content?
The first thing to think about is whether you are going to live stream, or are you going to record videos that will require some editing and post-production? This is where Smart phones have an advantage; you can quite easily connect them directly to the internet and stream straight from your phone to Facebook, YouTube or any number of platforms with the click of a button.
In saying that, there are some cameras that have the ability to live stream, and the main advantage of using a camera is better video quality. The Canon G7X II is one of the cameras has direct streaming capabilities. The G7X II is small compact camera; not much bigger than a mobile phone, however, its larger image sensor will give you superior video quality. If you are streaming directly from a camera it is a slightly longer process to set this up, but a fairly simple to follow and once you have set it up, here is an example from Canon on how to set up the streaming with their G7X II.
Another option is the GoPro; which can also stream to both Facebook and YouTube, amongst other social media platforms. As a small camera with a wide angle lens the GoPro is an ideal option for recording in smaller confined spaces.
A number of the Panasonic Semi Pro Camcorders have this function including the HC-X1500, HC-X2000, AG-CX10 and the AG-CX350.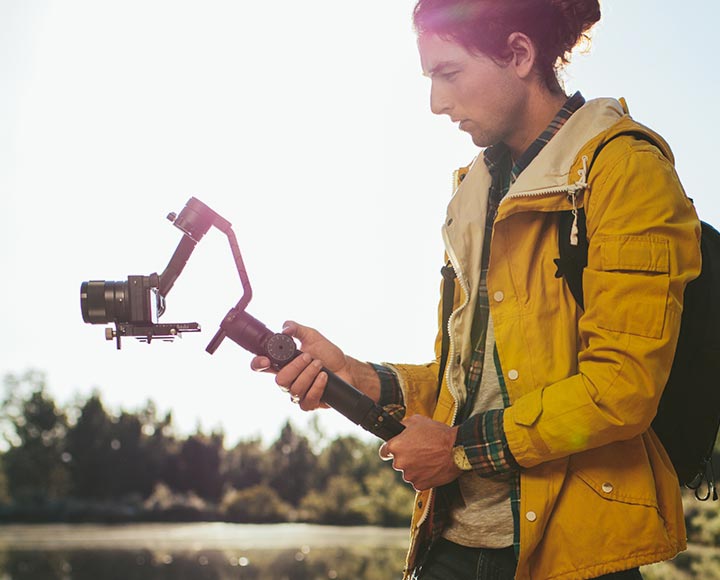 The next thing to consider is whether you want to be sitting down and stationary, or do you intend to be moving around? Cameras generally have a much better image stabilisation system than a phone, so if you are going to be moving around, a camera will give you a far steadier picture that won't give your audience motion sickness while they're watching you.
If you are moving around, whilst some cameras have very good image stabilisation, you may find you want an even steadier shot, which can be provided by a gimbal. A gimbal will allow you to smoothly move around while your shot stays super steady. If you are using a phone, you will need to get a phone clamp that will allow you to attach your phone to a tripod. If you don't currently have tripod the ATF Clover + is a great value tripod for a smart phone that comes with a phone clamp. Instead of getting a full-size tripod you can instead get a mini tripod like the Manftotto Pixies or the Joby Gorillapods which would allow you to put the camera or smart phone on a desk.
Another advantage of shooting video on the majority of cameras, rather than a phone, is the better low light performance a camera provides. That improved lowlight performance comes from the camera having a bigger image sensor (that is the chip the pixels sit on). Even if you're filming in daylight, but you're inside, the quality of the video will be compromised if you are shooting on a phone, due to the simple fact that there is less light available indoors. It won't be bad, but it will be more likely to have a grainy, lo-fi look about it.
If you think you're ready to kick start your vlogging adventure, we have done all the ground work for you and have curated some vlog kits, catering for everyone from the beginner to the seasoned vlogging professionals.
Part 2:
In part 2, I will talk about the advantages of shooting with different lens and lights.