Hahnel Captur Wireless Receiver - Canon
SKU code: 29459
Additional Captur Receiver
Trigger Additional Cameras or Speedlights
Powered by 2 x AA Batteries
Compatible with Hahnel Captur Transmitter
Free Shipping On Orders Above $49
Dispatches within 5-10 business days*
For store pickup please contact us
You May
Also Like
Batteries & Chargers:
Cables & Connectivity: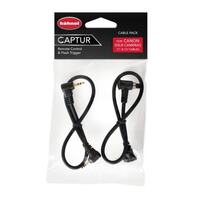 From $24.00
The Hahnel Captur Wireless Receiver is an ideal supplement to the Captur Wireless Transmitter and Receiver Kit. This additional receiver allows a secondary camera or flash to be triggered by the transmitter.
Wireless Shutter Release
The receiver doubles as a remote shutter release for your compatible camera, enabling you to shoot from two cameras with different viewpoints, lenses or exposure settings simultaneously.
Off-Camera Flash Trigger
The dedicated topside hotshoe supports an additional flash, allowing you to set up sophisticated off-camera lighting for portraits, product photography, outdoor action shots and more.
Powered by 2x AA Batteries
Powered by 2 x AA batteries (sold separately), the Hahnel Captur Receiver is a great addition to your Captur kit, delivering twice the flexibility and possibility to virtually any shooting scenario.

Requires Hahnel Captur Transmitter. Does not function as a stand-alone device.

Please visit the Hahnel Website for updated camera compatibility.
Hahnel Captur Wireless Receiver
* Dispatch timeframes are indications only and may vary for multiple quantities. Timeframes are updated regularly during normal business hours.