The Fujifilm GFX 50R delivers excellent medium format mirrorless shooting with a smaller, lighter body and a rangefinder design that make it incredibly portable and versatile. The sensor flaunts an ultra-high resolution of 51.4-megapixels with an ultra-wide tonal range that combined with Fujifilm's world renown colour science offers photographers the ability the capture incredibly detailed images with faithful colour reproduction.
High-Resolution Medium Format
With a gigantic G-format 51.4-megapixel sensor that is 1.7x bigger than 35mm format full frame cameras, the 50R puts medium format high-resolution shooting in the hands of more photographers than ever before. The CMOS sensor's incredibly wide tonal range and enhanced light sensitivity take image performance to the next level and the lack of an optical low-pass filter ensures that images are razor sharp.
14-Bit RAW files with 14-Stops of Dynamic Range
Quality is key, and Fuji understand the needs of high-end professional shooters, which is why the GFX 50 R has an ability to capture RAW images with a colour bit-depth of 14-Bit. This massive bit rate allows you to make the most of the sensors wide dynamic range of 14-stops.
High-speed Image Processing
The GFX 50R uses the same X-Processor Pro as many of Fujifilm's X-Series cameras that crunches the data from the ultra-high-resolution sensor to ensure autofocus performance, start-up time and Fujifilm's film simulation modes are optimised. The lightning fast processor reduces shutter release and shooting interval lag for ultra-responsive performance while shooting.
Rangefinder Body with 3.69 OLED EVF
Fujifilm's digital cameras have always been a delicate blend of modern functionality with old world charm and the 50R is no exception. The ultra-sharp 3.69-million dot EVF boasts a magnification of x0.77 so you can compose your shot and confidently check focus with your right eye, while taking advantage of the rangefinder design to keep an eye on the surroundings using your left eye.
Portable, Lightweight and Versatile
The 50R is smaller and lighter than its big brother the GFX50S, weighing only 775g with a body that at its most narrow part is only 46mm thick. This makes this camera Fuji's most compact and portable medium format mirrorless camera to date, which holds appeal for everyone from travel shooters to street photographers.
Get Comfortable with the Concept
With a focus on ergonomics and design, the Fujifilm GFX 50R is an elegant fusion of function and form. The surface of the camera uses a rubber material to provide a comfortable grip while the controls are milled out of aluminium blocks for a premium look and feel that only improves the experience of shooting with the camera.
Protected Against the Elements
Designed to go where you go, the GFX 50R is built from a magnesium alloy and has extensive weather sealing that ensures the camera is not only lightweight and portable but also incredible durable and robust. With a dust and water-resistant construction, the camera handles temperatures ranging from -10°C to 40°C and humidity from 10%-80%.
2.36M-Dot LCD Touchscreen with 2-Direction Tilting
At the rear of the GFX 50R is a high resolution 2,360K-dot LCD monitor with touch functionality that supports four direction flick control for toggling between display modes like histogram, highlights, electronic level and more. The large 3.2-inch size makes it easy to review your shots and tilts up and down to facilitate more creative shooting perspectives.
Dual UHS-II Card Slot
Professional photographers need to know that when they press the shutter on their cameras, the images that are created are also immediately backed up. Fuji included dual SD card slots that support ultra-fast UHS-II speeds and can be used to protecting against data loss or be setup to separate files types between cards for faster workflows.
Bluetooth Wireless Connectivity
The first medium format Fujifilm camera to feature a Bluetooth connection, the GFX-50R can be connected to a smartphone or tablet to enable geotagging, image transfer as well as remote camera operation. This can be used for landscape or astro photography to wirelessly trigger the camera without needing extra gear.
Updated Ports and Interface
With the inclusion of a USB-C port that support USB 3.1 Gen 1, the GFX 50R can easily be connected to a computer for tethered shooting. It also includes a HDMI port, so you can connect an external monitor and a PC Sync port that allows you to trigger flash units.
Full Frame and Then Some
Not just for medium format, the Fujifilm GFX 50R also has a 35mm mode which uses the pixels in the centre of the sensor and allows shooters to use the Fujinon GF lenses as well as the Super EBC Fujinon H-mount lenses with a compatible adapter for extreme optical performance.
51.4 Megapixel Medium Format CMOS Sensor
X-Processor Pro Image Processor
14-Bit RAW with 14 Stops of Dynamic Range
Rangefinder-style 3.69M OLED EVF
Lightweight Mirrorless System Design
Weather Resistant Body
2-Direction Tilting 2.36M-Dot Rear LCD
Dual UHS-II SD Card Slots & Bluetooth Connectivity
Number of effective pixels

51.4 million pixels

Image sensor

43.8mm x 32.9mm Bayer array with primary colour filter

Sensor Cleaning system

 

Ultra Sonic Vibration

 

Storage media

SD Card (-2G) / SDHC Card (-32G) / SDXC Card (-256G) UHS-I / UHS-II*1

File format

 

 

Still image

 

JPEG (Exif Ver.2.3)*2, RAW : 14bit RAW(RAF original format), RAW+JPEG, 8-bit TIFF(In-camera Raw Conversion Only)

 

Movie

 

MOV (MPEG-4 AVC / H.264, Audio : Linear PCM / Stereo sound 48KHz sampling)

 

Number of recorded pixels

 

S: (4:3) 4000 x 3000 / (3:2)4000 x 2664 / (16:9)4000 x 2248 / (1:1) 2992 x 2992 (65:24)4000 x 1480 / (5:4) 3744 x 3000 / (7:6) 3504 x 3000

Lens mount

FUJIFILM G mount

Sensitivity

Standard Output Sensitivity : AUTO1 / AUTO2 / AUTO3 (up to ISO12800) / ISO100-12800 (1/3 step)

Extended output sensitivity : ISO50 / 25600 / 51200 / 102400

 

Exposure control

TTL 256-zone metering, Multi / Spot / Average / Center Weighted

Exposure mode

P(Program AE) / A(Aperture Priority AE) / S(Shutter Speed Priority AE) / M(Manual Exposure)

Exposure compensation

-5.0EV - +5.0EV, 1/3EV step

(movie recording : -2.0EV - +2.0EV)

 

Image Stabilizer

Supported with OIS type lenses

Shutter type

Focal Plane Shutter

Shutter speed

Mechanical Shutter

 

4sec. - 1/4000sec (P mode), 60 min. - 1/4000 sec. (All modes)

 

Bulb mode (up to 60min), TIME:60min. - 1/4000sec.

 

Electronic Shutter*3

 

4sec - 1/16000sec (P mode), 60min - 1/16000sec (All modes)

 

Bulb mode (up to 60 min), TIME:60min. - 1/16000sec.

 

Electronic Front Curtain Shutter*4

 

4sec. - 1/4000sec (P mode), 60 min. - 1/4000 sec. (All modes)

 

Bulb mode (up to 60min), TIME:60min. - 1/4000sec.

 

Mechanical + Electronic Shutter

 

4sec - 1/16000sec (P mode), 60min - 1/16000sec (All modes)

 

Bulb mode (up to 60 min), TIME:60min. - 1/16000sec.

 

Electronic Front Curtain Shutter*4 + Electronic Shutter

 

4sec - 1/16000sec (P mode), 60min - 1/16000sec (All modes)

 

Bulb mode (up to 60 min), TIME:60min. - 1/16000sec.

 

Synchronized shutter speed for flash

 

1/125sec. or slower

 

 

Continuous shooting

Approx. 3.0 fps ( JPEG:Endless Lossless compression RAW : 13 Frames Uncompressed RAW : 8 Frames)

 

*When Using the Electronic Front Curtain Shutter

 

Approx. 1.8 fps ( JPEG : Endless Lossless Compression RAW : Endless Uncompressed RAW : 8 Frames)

 

* Recordable frames depends on recording media

 

* Speed of continuous shooting depends on shooting environment and shooting frames

Auto bracketing

AE Bracketing (2/3/5/7/9 frames) ±1/3EV - ±3EV, 1/3EV step

 

Film Simulation Bracketing (Any 3 types of film simulation selectable)

 

Dynamic Range Bracketing (100%, 200%, 400%)

 

ISO sensitivity Bracketing (±1/3EV, ±2/3EV, ±1EV)

 

White Balance Bracketing (±1, ±2, ±3)

 

Focus Bracketing (Interval, Number of shots, 10 step)*5

Focus

mode

 

Single AF / Continuous AF / MF

 

type

 

TTL Contrast AF

 

AF frame selection

 

Single Point AF: EVF / LCD: 13x9 / 25x17 (Changeable Size of AF Frame Among 6 Types)

 

Zone AF: 3x3 / 5x5 / 7x7 from 117 Areas on 13x9 Grid

 

Wide/Tracking AF: (Up to 9 Area)

 

* AF-S : Wide

 

* AF-C : Tracking

 

 

White balance

Automatic scene recognition / Custom / Colour temperature selection (K) / Preset : Daylight, Shade, Fluorescent light (Daylight), Fluorescent light (Warm White), Fluorescent light (Cool White), Incandescent light, Underwater

Self-timer

10sec. / 2sec.

Interval timer shooting

Yes (Setting : Interval, Number of shots, Starting time)

Flash modes *When EF-X500 is set

SYNC. MODE

 

1ST CURTAIN / 2ND CURTAIN / AUTO FP(HSS)

 

FLASH MODE

 

TTL(FLASH AUTO / STANDARD / SLOW SYNC.) / MANUAL / OFF

 

 

Hot shoe

Yes (Dedicated TTL Flash compatible)

Viewfinder

0.5 inch Approx. 3.69 millions dots OLED Colour Viewfinder Coverage of Viewing Area vs. Capturing Area : Approx. 100%

 

Eyepoint: Approx. 23mm (from the Rear End of the Camera's Eyepiece) , Diopter Adjustment: -4 - +2m-1

 

Magnification: 0.77x with 50mm Lens (35mm Equivalent) at infinity and Diopter set to -1.0m-1

 

Diagonal Angle of View: Approx. 38° (Horizontal Angle of View: Approx. 30° )

Built-In Eye Sensor

 

LCD monitor

3.2 inch, Aspect Ratio 4:3,

 

Approx. 2,360K-dot Tilt-Type(Two Direction), Touch Screen Colour LCD Monitor (Approx. 100% Coverage)

Movie recording

[Full HD (1920x1080)] 29.97p / 25p / 24p / 23.98p 36Mbps up to Approx. 30 min.

 

[HD (1280x720)] 29.97p / 25p / 24p / 23.98p 18Mbps up to Approx. 30min.

Photography functions

Color, Sharpness, Highlight tone, Shadow tone, Noise reduction, Long exposure NR,
Lens Modulation Optimizer, Color space, Pixel mapping, Select custom setting,
Edit/Save custom setting, Store AF mode by orientation, Rapid AF, AF point display, Pre-AF, AF Illuminator, Face/Eye detection AF, AF+MF, Focus peak highlight, Focus check, Interlock spot AE & focus area,
Instant AF setting (AF-S/AF-C), Depth-of-field scale, Release/Focus priority, Touch screen mode, Flicker reduction,
Mount adapter setting, 35mm Format Mode, Red eye removal, Movie AF mode, RGB Histogram, Highlight alert,
Electronic level, Preview depth of field, AE lock, AF lock, AF-ON, Multiple exposure

Touch Screen Mode

Shooting Mode

 

Touch AF, Focus Area, OFF

 

Playback Mode

 

Swipe, Zoom, Pinch-in / Pinch-out, Double-tap, Drag

 

 

Film Simulation mode

15 modes ( PROVIA / Standard, Velvia / Vivid, ASTIA / Soft, CLASSIC CHROME, PRO Neg.Hi, PRO Neg.Std, Black&White, Black&White+Ye Filter, Black&White+R Filter, Black&White+Gfilter, Sepia, ACROS, ACROS+Ye Filter, ACROS+R Filter, ACROS+G Filter )

Grain Effect

STRONG, WEAK, OFF

Colour Chrome Effect

STRONG, WEAK, OFF

Dynamic range setting

AUTO, 100%, 200%, 400%

Playback functions

Switch slot, RAW conversion, Erase, Erase selected frames, Simultaneous delete(Raw Slot1/JPG Slot2), Crop, Resize, Protect, Image rotate, Red eye removal, Voice memo setting, Copy, Photobook assist,
Multi-frame playback (with micro thumbnail), Favorites, RGB histogram, Highlight alert

Wireless transmitter

Standard

 

IEEE 802.11b / g / n (standard wireless protocol)

 

Encryption

 

WEP / WPA / WPA2 mixed mode

 

Access mode

 

Infrastructure

 

 

Wireless function

Geotagging, Image transfer (Individual image/Selected multiple images), View & Obtain Images, instax Printer Print, Pairing registration, Delete pairing registration, Bluetooth ON/OFF setting, Auto image transfer, Smartphone Sync. Setting

Other functions

Exif Print, Date/Time, Time difference, 35 Languages, My menu setting, Sensor cleaning,
Battery age, Sound set-up, EVF brightness, EVF color, LCD brightness, LCD color,
Image disp, Auto rotate displays, Preview exp./WB in manual mode, Natural live view,
Framing guideline, Autorotate PB, Focus scale units, Disp. custom setting,
Focus lever setting, Edit/Save Quick menu, Function(Fn) setting,
Selector button setting, Command dial setting, S.S. operation, Shutter AF, Shutter AE,
Shoot without lens, Shoot without card, Focus ring, AE/AF-Lock mode, Expo. Comp. button setting,
Touch screen setting, Lock, Auto power off, Shooting stand by mode, Auto power save,
Frame No., Save org image, Edit file name, Card slot setting, Switch slot,
Movie file destination, Select Folder and Create Folder, Copyright Info

Terminal

 

Digital interface

USB Type-C(USB3.1 Gen1)

HDMI output

HDMI micro connector (Type D)

Other

ø2.5mm, Remote Release / Stereo Mini Connector (Microphone)
DC IN 15V Connecter *Compatible with AC-15V (Optional) Only
Hot Shoe
Synchronized Terninal

Power supply

NP-T125 Li-ion battery (included)

 

Battery life for still images*6

 

Approx. 400frames When GF63mmF2.8 R WR is set. (Auto power save ON)

 

Actual battery life of movie capture*6

 

*Face detection is set to OFF

 

Full HD : approx. 145 min

 

Continuance battery life of movie capture*6

 

*Face detection is set to OFF

 

Full HD : approx. 70 min.

Dimensions

160.7mm (W) × 96.5mm (H) × 66.4mm (D)

 

(Minimum Depth : 46.0mm)

Weight

Approx. 775g / 27.3oz. (including battery and memory card)

 

Approx. 690g / 24.3oz. (excluding accessories, battery and memory card)

Operating Temperature

-10°C - +40°C

Operating Humidity

10 - 80% (no condensation)

Starting up period

Approx 0.4sec.

Notes

*1 Please see the Fujifilm website to check memory card compatibility.

 

*2 Exif 2.3 is a digital camera file format that contains a variety of shooting information for optimal printing.

 

*3 The Electronic Shutter may not be suitable for fast-moving objects or handheld shooting. Flash can not be used.

 

*4 When using the electronic front curtain shutter, the continuous shooting speed drops and using high speed shutter, the shutter switches to mechanical shutter. (1/640sec. to 1/4000sec.)

 

*5 Please use your cameras and lenses with the latest version of firmware.   If the firmware is not the latest version, compatibility will not be provided.

 

*6 Approximate number of frames or movie recording time that can be taken with a fully-charged based on CIPA Standard.
Fujifilm GFX 50R
Re-Chargeable Li-ion Battery (NP-T125)
Battery Charger (BC-T125)
Plug Adapter
Body Cap
Strap Clip
Protective Cover
Clip Attaching Tool
Shoulder Strap
Cable Protector
Hot Shoe Cover
Sync Terminal Cover
Manufacturer Warranty
---

This product comes with a
12month Australian warranty
from Fujifilm Australia
Want to read more about warranties?
Add extra protection for peace of mind
---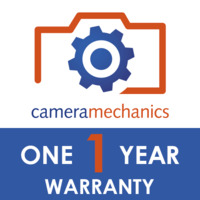 One Year Warranty
$319.45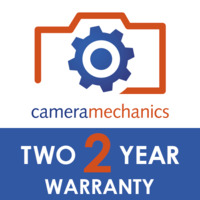 Two Year Warranty
$418.84
Please call us to purchase a 1 or 2 year Warranty on this product.
* Dispatch timeframes are indications only and may vary for multiple quantities. Timeframes are updated regularly during normal business hours.